Keep your pets safe this Halloween
Posted:
Updated:
Claire Graham, KHQ Local News Anchor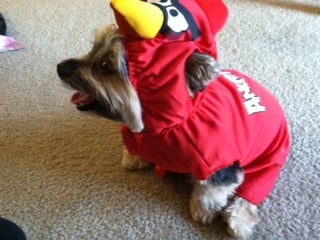 October 30, 2012 -
KENNEWICK, Wash. - For many people, Halloween may be all about trick or treating, but safety should also be a top priority. And while you may have thought about keeping your kids safe tomorrow night, what about your pets?
No matter how cute they look in costume, Halloween can pose a few pet-problems. Rule #1: leave your dog at home.
"Halloween can be a scary time for our pets," said Dr. David Wiens, a veterinarian and Banfield Pet Hospital in Kennewick, "the costumes in particular can be very frightening and especially taking your pet out on a dark night, the streets crowded by little children, they can be frightened."
But leaving them home poses the questions: what about the doggie doorbell? If your dogs bark and rush to the door, take caution. With all the trick or treaters, your dog could react in a number of ways.
"There certainly are pets that can be frightened by the doorbell," said Wiens, "the pet can be threatened directly. A lot of pets can be very defensive of their people, their house, their environment, and if they see a potential threat, that can be a problem for them."
That's why you should focus on making your dog comfortable. If you have a quiet, secluded back yard you can try putting your dog outside, but if your neighborhood is too loud or busy, try a quiet, familiar room where your pet can relax.
The last thing you want is your dog attacking if a scary costume comes to the door.
But a ghoulish visitor isn't the only threat. Most pet owners know not to give their furry friends any chocolate, but that doesn't mean they don't sniff their way into the candy bowl and end up at the vet. Xylitol, an artificial sweetener found in gum and other candy, is also harmful to dogs.
"We can try and make them vomit, to eliminate the chocolate from their system, pumping the stomach is definitely an option, there are medications we might use to try and help prevent them from having troubles with it." Wiens said.
An easy solution? Keep the candy out of paw's reach. When the kids empty their pillow cases at the end of the night, keep the sweets in a closed container where your pets wont get into them.
So this Halloween, take a few precautions to make sure your furry friends are safe instead of spooked.
That way they can choose if it's trick... or treat.