7-11 brewing politics with coffee cup polls
Posted:
Updated: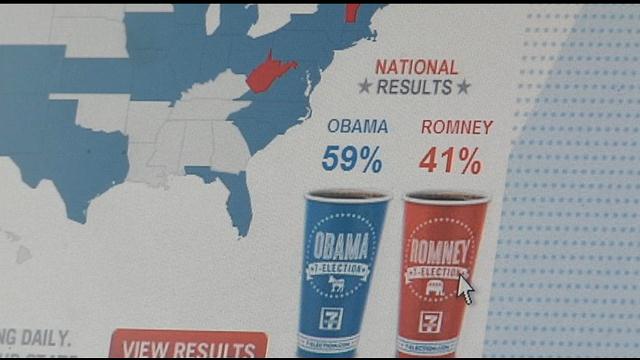 RICHLAND, Wash. -- It's less than a week away from election day, and the latest polls show a tight race between former Massachusetts Governor Mitt Romney and President Barack Obama.
But not all polls are scientific and official. For the last three presidential elections, 7-11 stores across the country kept their own polls of who is going to be the next president of the United States. They do it by seeing who buys more blue Obama coffee cups or red Mitt Romney coffee cups.
Based on this method, 7-11 has correctly predicted George W Bush's two victories and President Obama's victory in 2008.
When you buy a presidential cup of coffee, it's barcode gets scanned and goes to a central data base, which immediately goes to the 7-11 election website. Currently, the national results are showing President Obama in the lead 59% over Romney's 41%.
The difference is even greater in the state of Washington, showing Obama at 61% and Romney at 39%. However, the website also breaks it down by city and in Richland Romney cups are outselling the president's 60% to 40%. The 7-11 on Duportail and Wright keeps tabs. So far 506 people bought Red Romney cups to 376 Blue Obama cups.
Participating states and stores started selling the presidential coffee cups two months ago. 7-11 executives estimate about seven million people visit a 7-11 store daily and about a million a day get a cup of coffee each day.
To see the results, click here.