DEVELOPING STORY: Murder At Eastern State Hospital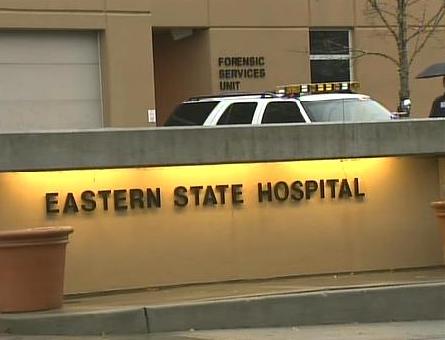 UPDATE:

SPOKANE, Wash. (AP) - The Spokane County Medical Examiner has released the identity of a man killed at Eastern State Hospital.
The medical examiner says 56-year-old Duane E. Charley died of strangulation early Tuesday morning.
The Spokane County Sheriff's Office has arrested 30-year-old Amber I. Roberts in the attack. She is jailed for investigation of first-degree murder.
Details of the incident have not been released.
Charley was found dead on the floor in the hospital's forensics unit, where patients are evaluated after being committed by a judge during a criminal case.
(Copyright 2012 The Associated Press. All rights reserved. This material may not be published, broadcast, rewritten or redistributed.)
PREVIOUS COVERAGE:
Spokane County Sheriff's Department Press Release:
MEDICAL LAKE, Wash. - On Tuesday morning, November 20, 2012, at about 3:30 a.m., Spokane County Sheriff's Deputies responded to Eastern State Hospital in Medical Lake for a death investigation. When they arrived on scene, it was determined that the cause of death was homicidal in nature. The scene was secured and Spokane County Major Crimes Detectives and the Spokane County Forensics Unit responded to the scene.
Major Crimes Detectives spent the morning and early afternoon hours processing the scene. The suspect has been identified as 30-year-old Amber Roberts. Roberts was booked into the Spokane County Jail on the charge of Murder.
An autopsy will be completed today and the Medical Examiner's Office will release the identity of the victim at a later time.
------------------------------------------
MEDICAL LAKE, Wash - A female patient murdered a male patient at Eastern State Hospital, and the man was found dead around 2:30 am on Tuesday, Spokane County Deputies say.

Both patients were housed in a ward within the Forensics Services Unit. DSHS spokesperson John Wiley confirms security in that unit is higher than in others at the hospital as patients who are placed there come to the psychiatric hospital through the legal system, either after being convicted of a crime or being acquitted by reason of insanity.
The relationship between the two, the means of attack, nor their names have yet been released.
Wiley says there are 95 beds within the Forensic Services Unit, composed of three separate wards with roughly 30 beds apiece. The patients in the ward where the murder took place have been moved out to another area in the hospital, both so they don't get upset, and also to stay out of the way of investigators.
The Major Crimes and Forensic units are investigating and a Spokane County Sheriff's Department spokesperson said a search warrant was being executed for the areas involved.
Wiley said patients have their own rooms, and because Eastern is a hospital, not a prison, patients are not locked up.
Wiley said a hospital staffer of 30 years didn't remember anything like this ever happening, and that a tragedy like this is extremely rare.
The union representing the direct-care workers at Eastern State Hospital in Medical Lake has issued the following statement about this morning's suspected murder of a patient:
"Eastern State Hospital workers, represented by Local 782 of the Washington Federation of State Employees/AFSCME, are deeply saddened by this morning's tragedy that took the life of a male patient. Losing a patient is like losing a member of our family.
"We are working with law enforcement through our agency on the crime scene investigation.
"We have been diligent in raising concerns about short-staffing on the wards at Eastern State Hospital. We have raised these issues with management for more than a year. It's not clear if this understaffing contributed to this morning's tragedy. Regardless, it doesn't bring back one of our family members, a patient in our care."
DSHS statement on death at Eastern State Hospital
Eastern State Hospital CEO Connie Wilmot confirmed that the Spokane County Sheriff's Department is investigating the death of a patient in the Forensic Unit at Eastern State Hospital.
The Spokane County Sheriff's Department is investigating in an effort to determine the facts surrounding the patient's death. Eastern State Hospital management and staff are cooperating fully as the Sheriff's Department conducts its investigation.
Administrative reviews of the death will be conducted once law enforcement has gathered the information they need to complete their investigation.
Patients have been moved off of the ward where the death took place and hospital management is providing needed support to patients and staff.