NEW DETAILS: Spokane Valley Fire Damages Two Businesses
Posted:
Updated: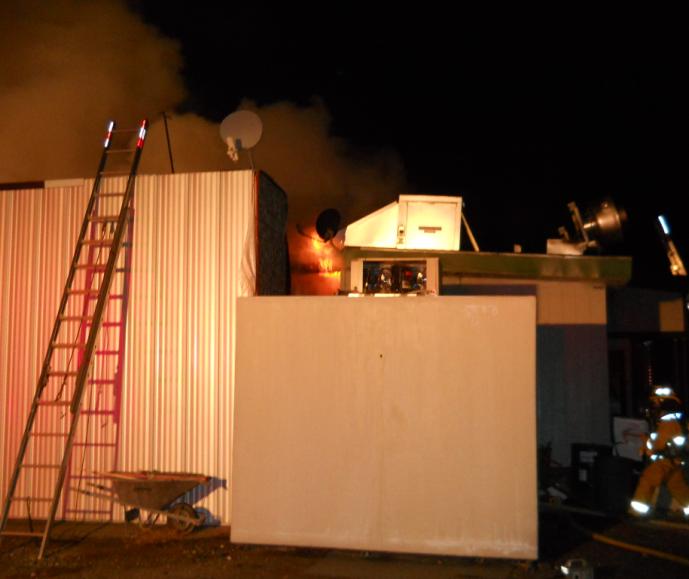 Photo courtesy: Spokane Valley Fire Dept.
OFFICIAL PRESS RELEASE FROM THE SPOKANE VALLEY FIRE DEPT: On Wednesday morning at 3:49 AM the Spokane Valley Fire Department responded to a report of "billowing smoke" from the "Handlebar Restaurant" and "Hell Yeah Cycles" located at 17927 E. Appleway.
V-22 arrived on scene and reported smoke showing and called for additional units (11W.) Valley Ladder 10 initiated an offensive attack from the rear of the building.
Ladder 10 knocked down the fire on the first floor and discovered a portion of the floor had collapsed.
Ladder 10 also found fire in the basement and attic spaces. Due to the age of the structure and several remodels the fire extended through numerous void spaces. Crews continued offensive operations as they accessed burning parts of the attic.
A second alarm was struck at 4:30 AM bringing additional units to assist with the lengthy extinguishment and overhaul operations. The situation was stabilized at approximately 5:30 AM.
The building sustained significant damage but firefighters were able to save a number of Harley Davidson motorcycles and other contents. During the overhaul phase firefighters discovered a structure within a structure. The original building was a log structure and over time had been built over and added on to.
There were over 30 firefighters and0 crews on scene. No one injured and damage is estimated at approximately $75,000.
ORIGINAL STORY:

KHQ.COM - Firefighters responded to a fire on Wednesday morning that damaged two businesses in Spokane Valley in the 17900 block of E. Appleway. 'Hell Yea Cycles,' and a restaurant called the 'Handle bar' were both affected. When firefighters arrived on the scene flames were shooting through the ceiling.
The fire started in the basement and then spread to the 1st floor and then to the attic. The flames were contained to the back of the building.
There is smoke damage to the building and 6-to 7 motorcycles were also damaged.

So far no injuries have been reported and there's no word on a cause.