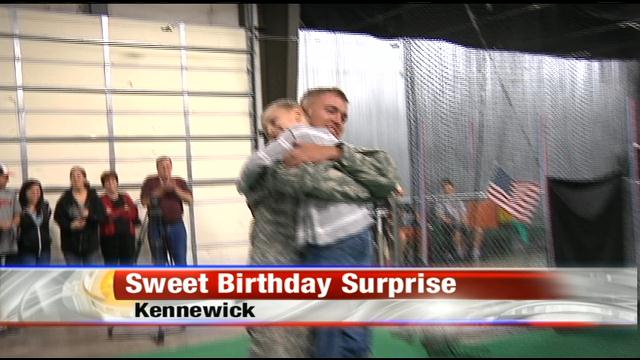 KENNEWICK, Wash. -- It was a sweet birthday surprise for one Kennewick Boy. Seven year old Riley Sams had his birthday party Friday evening at the Batter's Box in Kennewick. Little did he know that a game of Simon Says would turn into the greatest gift he could ask for, to see his father.
27 year old Army Specialist Jonathon Sams served two tours in Iraq and a year in Afghanistan. He just returned from Iraq in August and has been stationed at Fort Carson in Colorado since. He has not seen Riley in a year.
Before the big surprise NBC Right Now asked Riley what he wanted for his birthday, the seven year old replied, " to go see my daddy."
And then all the kids sat down on the ground for a game of Simon says. When they told Riley to turn around, there was his father, in full uniform.
"His mom set it up a couple of months ago to fly me out here to surprise him for his birthday. I can't remember the last time I got to see him for his birthday. .... Seven years and I haven't seen him for his birthday yet so," said Sams.
When asked what this means to him, he had one answer, "everything." Sams is staying in Kennewick with his family until Monday.