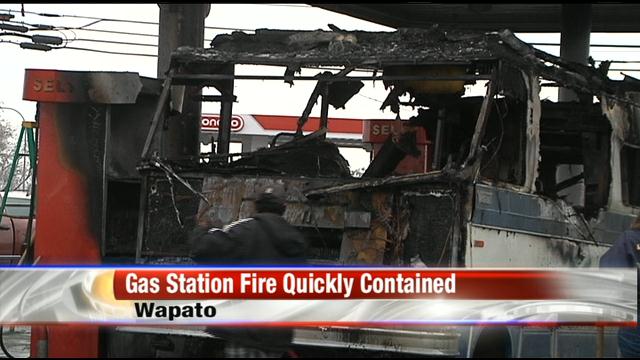 Wapato, WASH.--Some very scary moments Sunday morning at a gas station in Wapato.
A family goes in to pay for gas and suddenly their RV is up in flames with two small children inside. Fortunately, they were able to get out safely and no one was hurt.
The fire happened at Wolf Den Gas Station on West Wapato Road around 11 a.m.
The owner of Wolf Den, Dacie Ramsey, said there were at least six or seven other cars around when the RV went up in flames in just a matter of minutes.
The fire is said to have been electrical started by a problem inside the RV. Witnesses said firefighters were able to control the blazes in 10 to 15 minutes, but the RV is a total loss, and the metal awning over the pumps at the gas station is in need of serious repairs.
"It's only material, it can be replaced," said Ramsey. "It's more the children's safety and their safety, and the other customers that we have, made it out okay out of the situation."
The fire could have potentially been a lot worse. However, employees were able to quickly flip the emergency switch to shut off all fuel pumps and keep the gas tanks from exploding.
Ramsey said she plans to completely rope off the parking lot so no one goes near the awning in case it collapses.