Fiscal Cliff: Home For The Holidays
Posted:
Updated: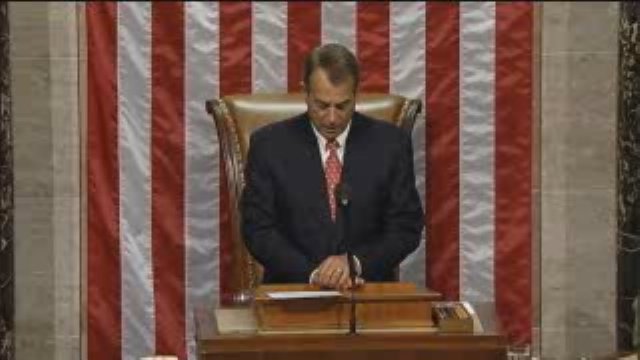 Speaker John Boehner has sent House Republicans home for the holidays and admits getting a deal on taxes and spending to avoid the fiscal cliff will be difficult.

"How we get there, God only knows," Boehner said Friday.

The Speaker was humiliated Thursday night when many of his own Republicans refused to buy his plan to keep tax rates from rising on more than 99% of Americans because the plan would still hike taxes on income over a million dollars.

Tea Party Republican Tim Heulskamp joined the rebellion.

"I disagree with John Boehner actually caving on taxes," Huelskamp said. "The Speaker has been talking about tax increases. That's all he's been talking about."

A Boehner ally slammed the Tea Party rebels.

"They become martyrs. They become martyrs in the eyes of these extreme groups," said Ohio's Representative Steven LaTourette.

Boehner, meanwhile, sounded sympathetic and not worried he could now lose his speakership.

"They weren't taking that out on me. They were dealing with the perception that somebody may accuse them of raising taxes," he said.

President Obama is still demanding tax increases on income over $400,000.

His supporters believe a deal is still possible.

"What John Boehner, I think can do, is come to an agreement with the president and get half of his people or a little more than half of his people," said Maryland Congressman Steny Hoyer.

Democrats would join in on any Boehner-Obama deal to raise taxes and cut spending, but there's still no sign Boehner will go along.

They'll try again next week.