Medicaid Expansion Director Talks Progress about Insuring WA
Posted:
Updated: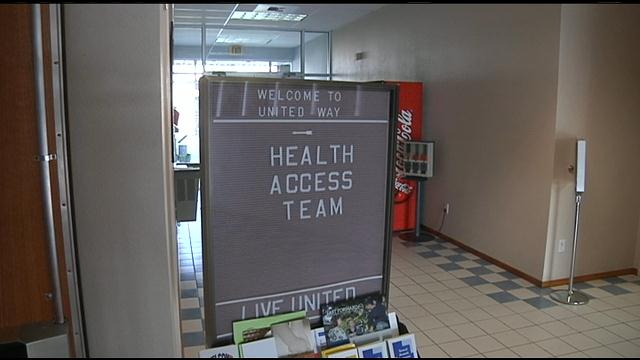 KENNEWICK, Wash. -- The deadline for states to have Health Insurance Exchange programs up and running is only nine-months away.
In the meantime, hundreds of government employees are working to get almost a million uninsured Washingtonians on a plan as the Affordable Healthcare Law goes into affect January 2014.
"Its the biggest thing since Medicare and Medicaid, to think about having access to healthcare to most of the population in our state is a very exciting thing," said MaryAnne Lindeblad, the director of the Healthcare Authority from Olympia.
Lindeblad is responsible for the state's Medicaid expansion program. "Here in Washington, there are 800,000 plus adults that don't have insurance and many of those individuals will be eligible either through the Medicaid expansion or through one of the insurance exchange products," she said.
She says about 250,000 people in Washington will be eligible and added to Medicaid in the two to three years. She estimates about 75,000 people in the state currently are eligible but not using it. Part of the changes includes allowing adults without children who are of low enough income to qualify as well. "The forms will be simpler, the questions will be simpler. There will be less questions you have to answer to become eligible for Medicaid and certainly the threshold will be different it will be 133% of poverty," said Lindeblad. She said that means adults who earn slightly more than $15,000 a year will be eligible, and those who earn slightly more but still at about 400% of poverty can qualify for federal subsidies when buying insurance on the exchange.
The president of Grace Clinic, Mark Brault, who served about 6,800 uninsured people in Benton and Franklin Counties in 2012 said he doesn't think those people can afford insurance. He said with the Healthcare Reform Law in effect, he expects to see a relatively small change. "Late Summer and Fall, we're going to be working with our patients to determine if they will become eligible and help them figure out how to get enrolled, But our best estimate at the moment is that about 20% of our patients will probably become eligible," said Brault.
However, Lindeblad is optimistic about the results and especially the financial impacts we can expect to see in Washington. "We're anticipating about $139 million for the biennium.(2013-2015) That the state will actually save.," said Lindeblad.
But one of the concerns is that there are not enough doctors to take on such a big patient load, 800,000 newly insured people in the state. Franklin County's current Medicaid enrollment is 25,842 and Benton's is 37,500. Lindeblad says it's a worry, especially in rural communities that already have physician shortages, but just like in Massachusetts when they set up their healthcare exchanges, the problems should work themselves out in due time.
Susan Campbell, a nursing instructor at WSU Tri-Cities and a member of the local Health Access Team says doctor shortages are a concern for our area. "The challenge to our community is that we can't recruit enough physicians to cover every need, so we need to be innovative," said Campbell.
Campbell says they are trying new things like telehealth technology, and involving pharmacists in doing more for patients than just immunizations..
Lindeblad says many people at the Healthcare Authority are working on this. "We have about 900 employees and at least 100 of them are involved in the process in one way or another." She adds that this is a process that will take time. "We won't have 300,000 people come knocking on our door the very first day. It's going to take time and take time for the program to grow and get people on the program."
The Healthcare Authority does face some challenges, like not knowing all the details because the Federal government is still deciding on certain criteria, like how the individual mandate will be handled.
Lindeblad says there is a financial penalty for those who don't get health insurance by the deadline, but the details are still unknown. HCA says the penalty is partly symbolic, as it is an admission that you are gaming the system by not paying for your own health care and forcing everyone else who is insured to pick up your cost. But there is a loophole, Lindeblad says if you qualify for Medicaid but refuse its coverage, you will not be subject to the penalty. The reason is twofold - one, framers of the Affordable Care Act did not want to fine people without resources, and two, any uninsured eligible person who shows up for treatment at a clinic or hospital would undoubtedly be urged to sign up for Medicaid by providers, because that way they'd get paid. Most hospitals and clinics already have established programs that screen uninsured patients to help them find coverage when they show up for treatment.