DISCLAIMER: A Look Inside Spokane's 'Erotic' Spas, Some Viewers May Find Pictures Offensive
Posted:
Updated: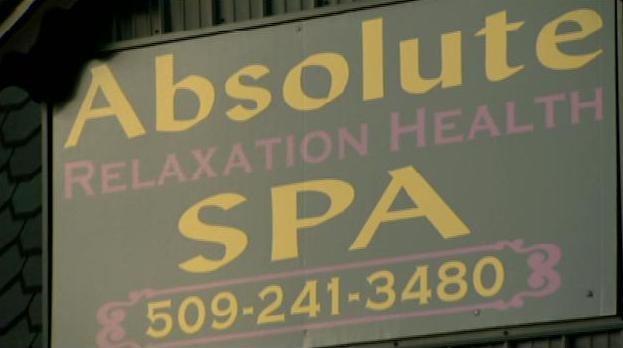 SPOKANE, Wash. - After months of secrecy, new documents first released to KHQ reveal an intricate and complex investigation into several Spokane spas which law enforcement believes were fronts prostitution rings.
The 14-month investigation into suspected prostitution, dubbed Operation Red Light, uncovered up to 250 prostitutes and even more "johns" cycling through what was believed to be a wide-spread underground economy. The investigation came to a head on July 10, 2012 when local and federal agencies - led by Airway Heights Police - raided eight spas, which police believed were brothels.
On that day, law enforcement arrested eight of the spa owners and managers as well as raided Oriental Spa North at 827 E. Francis Ave., its sister location Oriental Spa South on 515 S. Maple St., Joe Jean's Oriental Health Spa at 2712 N. Division St, Asian Spa at 3130 N. Division St., Starlite Spa at 2829 N. Market St., Absolute Spa at 9315 E. Trent Ave., Montana Spa at 7413 E. Trent Ave., and Far East Spa on 213 E. Sprague. Police also raided the spa owners' homes and seized any property they believed to be associated with prostitution including cars, jewelry, and cash.
Thursday, thousands of pages of documents collected during that investigation revealed everything from undercover police surveillance, to bank statements and interviews with confidential informants to several photographs inside the Oriental Spa North on E. Francis. The pictures are attached.
Arguably, the most explosive document is the "Johns list", a list of alleged clients who paid for services at the spas. The list has close to 1,200 names including clients who appear to be well-known educators, business professionals, and doctors, among others. Records show men made several trips to the "erotic spas" where they spent hundreds of dollars for services. Every single client paid with a credit card, according to the credit card records compiled by Airway Heights Police and obtained by KHQ. So far, police have said they don't plan to pursue charges against any of the clients.
KHQ obtained the documents following the filing of a public records request.
Despite the thousands of documents, they only account for evidence from two spas including Joe Jeans Oriental Health Spa, managed by 60-year-old Yong Kassim, and Oriental Spa North managed by 68-year-old Chin Day. Police arrested both women on July 10 for money laundering and promoting prostitution.
During the raids, police also arrested Chin Day's son and the owner of Oriental Spa, 36-year-old Tony Day; Starlite Spa owner 59-year-old Insuk Argo; Absolute Spa owner 27-year-old Jessica Vargas; Oriental Spa South owner Diana Welch; Montana Spa owner Jessica Vargas; and William Westover, the owner of Asian and Far East Spas. All were arrested for money laundering, promoting prostitution, and in some cases, criminal profiteering.
In a news conference following the raids, Airway Heights Police Chief Lee Bennett said the investigation began in 2011 when Kalispel Tribal police caught wind of women were soliciting men for sex inside the Northern Quest Resort and Casino in Airway Heights.
Tribal Police tipped off Airway Heights Police who then conducted undercover strings of suspected prostitutes. Bennett said police pretended to be "johns" and arranged to meet the suspected prostitutes at Northern Quest but later arrested them after they proposed to offer sex acts in exchange for money.
In a key moment in the investigation, many of those suspected prostitutes agreed to work as confidential informants for Airway Heights PD. In turn, the women spilled many of their secrets about the dark underbelly of the prostitution world in Spokane, which police admittedly had struggled to investigate in the past without their help. In many past cases, the website ads required references about "johns" from other prostitutes, a barrier police struggled to get around.
Before long, Bennett said, police were able to confirm that women were "cyber pimping": pre-arranging meetings with "johns" on websites that advertised erotic services like www.backpage.com and www.spokaneboard.com where they would then meet with the "johns" for sex acts at Northern Quest hotel rooms. The websites were regularly linked to the spas and massage parlors around Spokane.
"When we first started looking into it, there was approximately 40 to 50 women," Bennett said. "It looks, now, we maybe have upwards of 200 or 250 girls that cycle through the spas."
The woman ranged in age from 20 to 40 years old and made upwards of $6,000 a month while some of the businesses earn about $10,000, Bennett said. Undercover officers then went in to individual spas checking for evidence of prostitution and other crimes.
"As far as we can tell, we did not find any typical type of massage type equipment in these spas," Bennett said in the July press conference. "We don't think anybody is going for a legitimate massage. we believe these are for prostitution."
Bennett also described the spas as cash-only businesses where women touted comfortable incomes thanks to tips.Money flowed back to spa owners thanks to cover charges called "door fees" which ranged from $70 to as high as $500 depending on the sex act and the number of women involved.
"It was easy money, it was really easy money," one former escort told KHQ.
To this day, prosecutors have not filed formal charges against any of the spa owners or managers. That's largely because the records have been sealed under special inquiry proceedings, a law enforcement tool that involves the appointment of a "special inquiry" judge and prosecutor. A special inquiry is a rare investigative technique that keeps records sealed.
This is a developing story. With thousands of documents to read, KHQ will process and share the information as we process it.