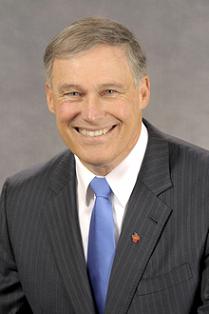 NBCRightNow.com - During his first days in office Governor Jay Inslee is already tackling some of Washington's biggest issues. On Tuesday Inslee met with the Department of Justice to discuss how the State and Federal Government can work together to implement Initiative 502.
Governor Inslee presented a three page memo to U.S. Attorney General Eric Holder outlining how the duties of state employees would change after the implementation of I-502. They also discussed how the regulatory process would work, including specifics like keeping marijuana stores a safe distance away from schools.

The Governor says he walked away from the meeting feeling positive about Washington's intentions and he feels like the Federal Government will give the state's plans a fair review.
"I think that's a good sign. For our abilities to continue this conversation and that in itself, in my view, leads to the view that we should continue our efforts to define this rule and give a defined rule to the federal government. I think that's the right way to go about business, in representing our voter's intent," Gov. Inslee said.

Inslee also emphasized that no definitive decisions were made today and that the state could still face legal action from the Federal Government in the future.
The Governor will speak to Attorney General Holder again as soon as next week when he will present even more specifics, including how the state will prevent marijuana distribution outside of Washington.