UPDATE: Escaped Geiger Inmate Taken Into Custody
Posted:
Updated: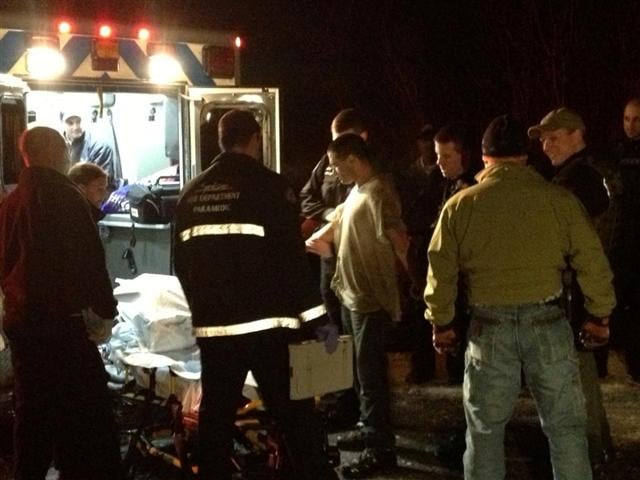 PRESS RELEASE FROM THE SPOKANE POLICE DEPT: The Spokane Police Patrol Anti-Crime Team arrested Geiger Escapee, Michael S. Wheeler, just after 7pm Wednesday night. Wheeler attempted to escape this time by swimming across Latah Creek, but was caught on the other side.
The team was conducting follow up in the area of 1200 S. Chestnut, when they observed a male matching Wheeler's description sneaking between houses. K9 Officer Hamilton followed tracks that led to the creek, where the team made verbal contact with Wheeler from across the water. Officers were able to get to the other side of the river and take him into custody.
The arrest came three days after Wheeler climbed the razor wire-covered fence to escape the Correctional Facility. He received multiple cuts from the wire, and even sutured some with a needle and thread.
Wheeler was transported to a hospital by ambulance, for possible hypothermia, where he was treated and released. From there he was booked into the Spokane County Jail on a new Escape charge, as well as 14 other felony warrants.
PACT officers are still conducting follow up to determine of the homeowner of the Chestnut address will be charged with Rendering Criminal Assistance.
PREVIOUS STORY:

SPOKANE, Wash. - Escaped Geiger inmate Michael Wheeler, 38, has been taken into custody after a water rescue in the area of 11th Ave. and Coeur d'Alene St.
Spokane police officials tell us officers were following up with known associates of Wheeler when they approached a home in the 1200 block of S. Chestnut. At that point officers observed a person matching Wheeler's description run from the home.
They then brought in a K9 unit and tracked Wheeler to Latah creek. He had crossed the creek in an attempt to get away, and because of cliffs on the other side of the creek, he was unable to escape. Wheeler was then taken into custody without incident. He was taken to an area hospital to be checked for hypothermia.
Police will continue to investigate the home and those inside to determine if anyone rendered criminal assistance.