Prescription Drug Abuse Fueling Rise in Heroin in Spokane
Posted:
Updated: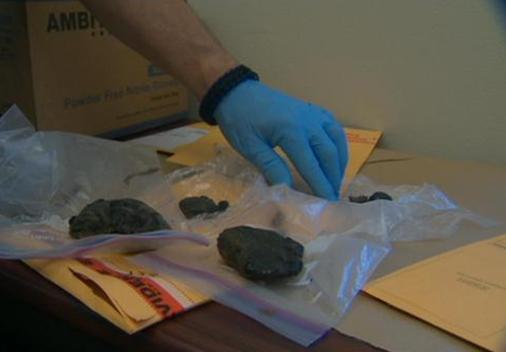 SPOKANE, Wash. - The increase in prescription drug abuse is fueling a rise in heroin addiction, according to detectives at the Spokane Police Department. A growing number of people who've started abusing expensive prescription drugs are now switching to heroin, which is cheaper and easier to buy.
The abuse begins when prescription drugs, like well known Oxycontin, is stolen from the prescribed market and sold to the black market. This most commonly occurs when addicts, across all age groups, steal legitimate painkillers from family or friends' medicine cabinets and then sell them on the streets. In other cases, people will rob pharmacies for the painkillers. In rare instances, police say, doctors and others in the medical community illegally sell painkillers on the black market.
The illicit delivery of prescription drugs is referred to as 'pill diversion' and it's a growing problem in the Inland Northwest.
As one Spokane Police sergeant described it, "We are aware of the top level of the ice berg. I think we don't know how deep in the water the iceberg goes."
Chris' Addiction Story:
After what he's been through, Chris can't help but be proud of the simple things like the cut of a good suit.
"It's a Hickey Freeman," clutching the lapel of his suit said with a laugh. Chris did not want to provide his last name for this story.
Chris is a tax consultant who now lives in Coeur d'Alene, Idaho. He's been clean for more than a year.
"I feel like a good person. I feel like I've been given my life back."
It's a fresh start and a long way from his past - a past that nearly killed him.
"I have what are now considered high class problems whereas a couple years ago I'm like 'Well who am I going to rob to buy some heroin?'"
Chris is a recovering heroin addict. He began using in college and no one saw it coming. At the time he enrolled at the University of California San Diego, he was an officer in the Army with a scholarship on the University's fencing team. His undoing was partying.
"I was always a huge computer nerd in high school, always kind of a nerd, you know, a loser," he said. "Then I found out, if I get super hammered and do a bunch of crazy stuff at parties, I was a cool guy. You know, the fun party guy."
While at parties, Chris began using Ketamine, a strong anesthetic known as "Special K" on the streets. Before long, he was spiraling out of control. He was binge drinking and using marijuana, cocaine and painkillers like Hydrocodone, Oxycontin, and Fentanyl . By his sophomore year, the Army officer was a full-blown opiate addict smuggling Ketamine and prescription drugs from Mexico back to the States.
By his senior of college, painkillers and money were in short supply. Withdrawals made him violently ill. "You get to a point where you're not using to get high, you're using to not be in withdrawals, not be dope sick," he said.
Desperate for his next fix, Chris made a harrowing decision to shoot up the hardest drug of them all: heroin.
"It got so bad that I was doing four grams of heroin a day, which is a lot of heroin," he continued. So that means about every six hours, I'd be in withdrawals and I'd have to use heroin every six hours so I wouldn't get horribly sick."
Heroin brought him to the brink of death. By his senior year, Chris was so strung out, he'd dropped out of school, he was homeless, and he overdosed twice. "You get to a certain point in the whole addiction cycle where it just doesn't seem conceivable that you're ever going to get out," Chris continued. "I was a hope-to-die dope fiend."
Chris' story is an increasingly common one in the Inland Northwest. Police say prescription drug abuse across the area is fueling a rise in heroin; and not just any heroin but black tar heroin.
"I would say, one-third to one-half of the cases that we investigate involve heroin," a Spokane Police sergeant said.
This sergeant, who is undercover, works for the Spokane Police Department's Special Investigative Unit, or SIU, which deals with street level drug users. Statistics show that SIU'S heroin arrests shot up from 61 in 2010 to close to 95 in 2012. In one particularly large bust last year, cops netted $24,000 heroin sales from a Spokane dealer.
The sergeant says the sheer popularity of prescription pills is driving up their cost, making black tar heroin cheaper and easier to get.
"Heroin is a cheaper alternative to prescription drugs," the sergeant confirmed.
On the streets of Spokane, one 30 milligram prescription pill costs about $30.00. A gram of heroin costs roughly $60.00. But if opiate addicts have to pop multiple pills to get high, heroin users can shoot up for a fraction of the price. Some former addicts told KHQ that, at the end stages of an opiate addiction, they will need to spend at least $600 a day on prescription pills just to function.
"The prescription drugs are real expensive when you consider how much someone would use during the course of the day," the sergeant continued. "If you take a 30 milligram Oxycontin tablet, grind it up, and smoke it, that might get you enough through a half a day."
Detectives say nearly all of the black tar heroin in Spokane comes from Mexican drug cartels. Users will crack off a chunk of the rock-like substance, mix it with water, heat it, draw it up into a syringe, and inject it intravenously. Unlike pills, which are made in a factory and whose potency is known, black tar heroin is almost always cut with dangerous ingredients.
"The heroin that we have here, that might be 7%."
That being said, heroin is notorious spikes in potency, especially with new shipments, which means the addictive street drug is much more likely to be deadly. According to the Substance Abuse and Mental Health Services Administration, initiations to heroin have increased 80 percent among 12- to 17-year-olds since 2002. In 2009, the most recent year for which national data is available, 510 young adults between the ages of 15 and 24 died of a heroin overdose. However, local data from the Spokane Regional Health District suggests heroin overdoses in Spokane County only account for a small amount of drug-related deaths.
Health Risks:
Heroin almost exclusively an IV-use drug which creates many health risks. The sergeant said it is not uncommon for police to execute a search warrant in a home and find several people with an advanced case of MRSA or some other infectious disease to the point where "it's very obvious that their life is compromised." This puts the officers at risk for blood borne pathogens as well.
"This is a piece of the world like nobody could imagine," the Sergeant said. "It's a nightmare."
Recovery:
For Chris, his nightmare got worse before it got better. At his lowest point, he hatched a plan with his fiancé at the time to end his misery.
"We had this plan where we were going to go buy counterfeit hundreds, use the counterfeit hundreds to buy hand grenades, and go on a crime spree and blow ourselves up with some police," he said.
But on the way, Chris says, he got pulled over for driving under the influence. "That DUI saved my life."
That DUI set into motion a string of events that led Chris to recovery. He hasn't used heroin in four years and he's been clean of any drugs or alcohol since August 2011. For Chris, it's a second chance at life.
"I love my life. I've the greatest life ever."
Chris encourages others like him, who are struggling with addiction to know that recovery is not only possible, but it's worth the journey.
Resources:
Spokane Regional Health District Opiad Treatment Clinic: http://www.srhd.org/services/opioid.asp
Consistent Care Program: http://consistentcare.com/ Care is operated in the emergency departments of Providence Sacred Heart Medical Center and Children's Hospital and Providence Holy Family Hospital in cooperation with Spokane Emergency Physicians, PS. Any Spokane area health care provider can refer a patient for review by the consistent care program by calling the hotline at 509-474-2424 and leaving a message with the patient's name and a brief history.
Consistent
Take Back Your Meds Washington medicine take-back program: http://www.takebackyourmeds.org/what-you-can-do/locations
Washington State Department of Health Prescription Monitoring Program: http://www.doh.wa.gov/hsqa/PMP/default.htm
National Survey on Drug Use and Health (Summary of National Findings: http://www.samhsa.gov/data/NSDUH/2k11Results/NSDUHresults2011.htm