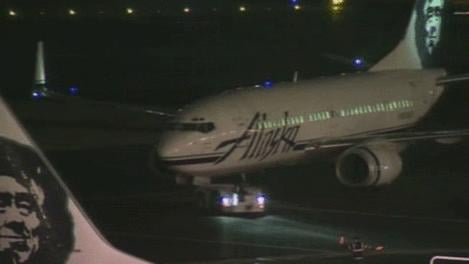 Credit: KGW News
UPDATE:

SEATTLE, Wash. - An Alaska Airlines spokesman says a pilot who lost consciousness Thursday night while flying from Los Angeles to Seattle was suffering from food poisoning or a stomach virus.
The co-pilot safely handed to Boeing 737 with 121 passengers and crew on board in Portland after declaring an emergency.

A spokesman says the pilot is in good condition Friday after doctors examined him at a hospital.

The pilot has been flying for Seattle-based Alaska Air Group Inc. for 28 years and was up to date on his six-month medical evaluation.

The spokesman says pilots are highly encouraged to report if they are not feeling well. The pilot says he felt fine when he reported for duty, and his dizziness and fainting came very suddenly.

PREVIOUS COVERAGE:

PORTLAND, Ore. (AP) - An Alaska Airlines spokesman says a flight bound from Los Angeles to Seattle made an emergency landing Thursday night in Portland, Ore., after the pilot lost consciousness.

Airline spokesman Paul McElroy says the pilot of Flight 473 lost consciousness at some point after the flight left Los Angeles about 6:30 p.m. The spokesman says the first officer landed the Boeing 737 safely in Portland.

Port of Portland spokesman Steve Johnson says the pilot was taken to a hospital.

Reports say there were 116 passengers and five crew members on the flight.

McElroy says the pilot has been flying for Alaska for 28 years and the first officer for 11 years.

Some passengers were booked on a Horizon Airlines shuttle flight. KATU reports that another flight crew was dispatched to fly the remaining passengers to their destination.