UPDATE: One Person Killed In Crash At Empire & Helena
Posted:
Updated: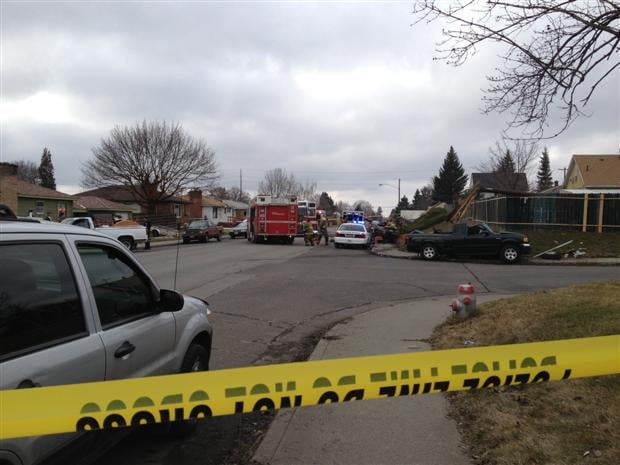 Spokane Police Department Press Release:

A fatality crash that occurred just before 12:30pm currently has roads closed in the area of Empire and Helena. They are expected to re-open around 6pm. One person is in custody for one count of Vehicular Homicide and two counts of Vehicular Assault.
Today, shortly before 12:30pm, officers responded to a collision at the intersection of Helena/Empire. Witnesses say a black Honda Civic was northbound on Helena at a high rate of speed. The Civic failed to stop for the stop sign at Empire and collided with a Ford pickup. The driver of the pickup was killed instantly. Officers and a citizen were in a brief foot pursuit with the driver of the Civic, thirty-eight year old Bryan J. Storms. He was taken into custody without further incident and is being treated at an area hospital. Storms' two passengers, one male and one female, suffered serious injuries and were both transported to the hospital.
A Drug Recognition Expert from Washington State Patrol responded as a part of the initial investigation. Storms will be booked into Spokane County Jail on one count of Vehicular Homicide and two counts of Vehicular Assault.
Currently Empire is still closed from Perry to Pittsburg and Helena is closed from Providence to Garland. We expect to reopen roads by around 6pm.
Once again, because of alert citizens who assisted officers arriving on scene, we were able to make a swift apprehension in this case. Your police department thanks you!
Previous Coverage:

SPOKANE, Wash. - Emergency responders were called to Empire & Helena for a fatal multi-vehicle collision Sunday afternoon.
Police say a pickup truck was driving westbound on Empire, when it was struck at a high rate of speed by a black Honda Civic after it blew through a stop sign. One person in the truck was killed. Two people suffered serious injuries, but we are told they are expected to make it. The name of the victim has not been released yet.

Following the crash, the driver of the Honda fled the scene on foot, however he was quickly located and arrested by a Spokane Police officer. He has been identified as 38-year-old Brian Storms. He is being charged with two counts of vehicular assault, and one count of vehicular homicide.

This story is developing and as soon as we get any additional information we will be sure to update this story.