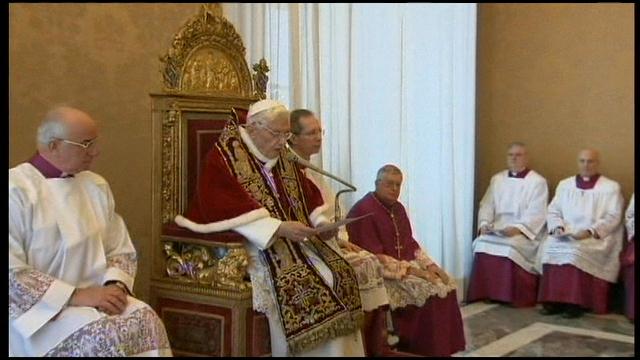 YAKIMA, Wash.-- A shocking announcement Monday from the Vatican. Pope Benedict XVI is resigning.

Benedict is the first pope in modern history to resign. The last time it happened was back in 1415, nearly 600 years ago.

Locally, the leader of the Diocese of Yakima, which covers the Yakima Valley and most of the Columbia Basin, says he was shocked after hearing the news Monday morning.

"I certainly feel a personal connection with him because right after he was elected in 2005, within days, I became a bishop," said the Most Rev. Joseph Tyson, bishop of the Catholic Diocese of Yakima.

Bishop Tyson was both saddened and surprised to hear the news Monday. Pope Benedict XVI stepping down from his post because of his age.

"He had done a pretty careful discernment of his energy and physical capacity," Bishop Tyson said.

The Bishop says he understands why the Pope decided to resign, but as one of the first bishops appointed under Pope Benedict, he feels a personal connection and sadness to see him go. Especially after the work he's done for the Roman Catholic Church.

"I'm very sad. As I said before, I had a personal connection with him. I think he's a marvelous teacher, he's really met the challenge head-on of the church in a very complex world," Bishop Tyson said.

Around our area, both Catholics and non-church members alike were surprised by the news.

"I didn't even know they could actually, but that's the first thing that came to my mind, he's only human," said Susan Drougas.

Bishop Tyson says he's asking every parish in the Yakima diocese to pray for both Pope Benedict, but also for the church, as its highest officials start the process of electing a new leader.

Bishop Tyson says cardinals will meet in March to begin talks of who will replace Pope Benedict.

He says we should know by Easter who will lead the 1.2 billion Catholics around the world.