Los Angeles Mayor: No Body Found Yet in Charred Cabin
Posted:
Updated: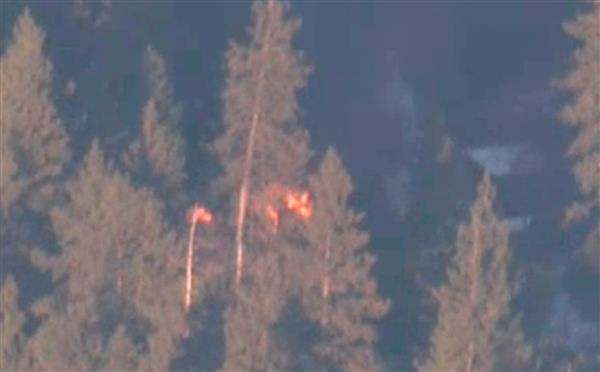 UPDATE:

BIG BEAR LAKE, Calif. -- Los Angeles Mayor Antonio Villaraigosa tells NBC News that authorities have not yet found a body in a torched mountainside cabin near Big Bear Lake.

The statement contradicts earlier information from sources within the mayor's office who had said former LAPD cop Christopher Dorn's charred remains were found.

Los Angeles Police say the cabin is still too hot to enter.


PREVIOUS COVERAGE:

BIG BEAR LAKE, Calif. -- NBC News is confirming that the body of former LAPD cop Christopher Dorner was found Tuesday night in a torched mountainside cabin near Big Bear Lake.

Dorner barricaded himself in the cabin after reportedly killing one sheriff's deputy and wounding a second in a gun battle.
Hundreds of investigators have spent about a week searching for Dorner, who is accused of killing a retired captain's daughter and her fiancé on Feb. 3 and a police officer on Feb. 7.


PREVIOUS COVERAGE:

BIG BEAR LAKE, Calif. (AP) - A law enforcement official says a charred body has been found in the burned cabin where a fugitive ex-cop is believed to have been in a standoff with sheriff's deputies.

The official speaking on condition of anonymity because the investigation is ongoing says the body was found at about 6:30 p.m. Tuesday

Authorities said earlier they believed the man in the cabin was Christopher Dorner. He has been on the run since they say he launched a campaign to exact revenge against the Los Angeles Police Department for his firing.

Officials will be looking for identifying marks such as tattoos before confirming the identity.

Police say Dorner killed four people, including a deputy on Tuesday.

PREVIOUS COVERAGE:

BIG BEAR LAKE, Calif. (AP) - Authorities say the former Los Angeles police officer wanted for killing three people is holed up in a cabin miles from where his truck was found.

A sheriff's official says Christopher Dorner stole a vehicle Tuesday near Big Bear Lake, abandoned it after a chase, ran into the forest and barricaded himself in the cabin. He got into a gunfight with officers, two of whom were injured.

As the crow flies, it's about five miles from where Dorner's pickup was found Thursday, though a ridge with peaks topping 8,000 feet lies between the locations. By road, the areas are about 30 miles apart.

The manhunt for Dorner began Wednesday. In an online post, he targeted dozens of people he feels are responsible for his firing from the LAPD in 2008.


PREVIOUS COVERAGE:

LOS ANGELES (AP) - Two law officers have reportedly been wounded in a gunfight in the mountains east of Los Angeles with a person believed to be a former Los Angeles police officer.

State Fish and Wildlife Assistant Chief Dan Sforza says two officers were wounded in the shootout in the area of Big Bear. It is not clear which agency they belong to.

Sforza says game wardens spotted Christopher Dorner in a vehicle on Highway 38 and attempted to pull him over.

Gunfire was exchanged. Dorner bailed out of the vehicle and ran into the woods.


PREVIOUS COVERAGE:
LOS ANGELES (AP) - Law enforcement officers have engaged in a gun battle in the mountains of California with a person believed to be a former Los Angeles police officer.

Road blocks are up around Big Bear, where Christopher Dorner's burned-out pickup was found Thursday.

Authorities have been conducting a manhunt in the area since last week.

He's accused of killing a couple and another cop.


PREVIOUS COVERAGE:

LOS ANGELES (AP) - A law enforcement official says a person believed to be the fugitive ex-Los Angeles cop sought in three killings has exchanged gunfire with authorities in the San Bernardino Mountains.

The officer requested anonymity because the officer was not authorized to speak publicly about the ongoing investigation.

The officer tells The Associated Press it's believed Christopher Dorner committed a residential burglary of a cabin and had a couple tied up in the cabin. One was able to get away and make a call.

Authorities responded to the location and gave chase Tuesday when Dorner fled in a stolen car. Gunfire was exchanged.

(Copyright 2013 The Associated Press. All rights reserved. This material may not be published, broadcast, rewritten or redistributed.)