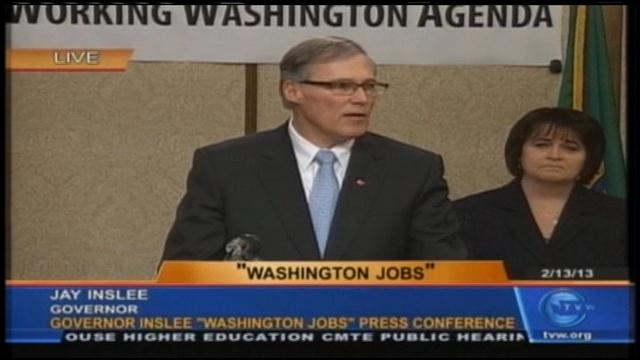 OLYMPIA, Wash.-- Governor Jay Inslee laid out his plan Wednesday for revitalizing Washington's economy and getting more people back to work.

The governor's plan is dubbed the Working Washington Agenda. In the $120-million package, Inslee outlines five areas he feels need to be the focus of both current and future efforts to strengthen our state economy.

Things like educating tomorrow's workforce and continuing to lead the way in aerospace.

Governor Inslee also talked about providing tax breaks to new companies in certain fields and creating jobs for the nearly 300,000 people across the state looking for work, as well as the tens of thousands of people who have run out of unemployment benefits.

"There's 128,842 families that could be in desperate positions, even though they've been solidly working people and doing everything they can to keep their families going. That's a hard thing for a lot of families," Governor Inslee said.

In his plan, the governor also suggests using state capital funds to develop clean energy alternatives to keep the state at the forefront of the green movement.

Inslee says his Working Washington Agenda also includes 11 pieces of legislation to help get Washington's economy back on track.