Chicken Causes Salmonella Outbreak in Washington State
Posted:
Updated: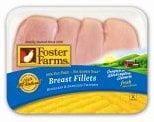 OLYMPIA, Wash. - Due to a recent outbreak of Salmonella linked to chicken in Washington state, the Health Department wants to warn you of the dangers of uncooked poultry.
Since last June, at least 56 people got sick from Salmonella, linked to chicken from Foster Farms plants in Washington and California. Fifteen cases in Washington had to go to the hospital, but none of the cases resulted in death.
Salmonella is a common cause of food borne illness, accounting for 600-800 reports of illness in Washington each year. There are many sources of Salmonella bacteria, but poultry, specifically raw chicken, is one of the most common.
The U.S. Department of Agriculture allows the sale of raw poultry that contains Salmonella, but preparing and cooking chicken properly makes it safe to eat, even if it contains the bacteria.
Symptoms of Salmonella illness usually include diarrhea, fever and stomach cramps. The symptoms usually begin one to three days after exposure, and the illness usually lasts four to seven days. Most people recover on their own without medical treatment. Some people do need medical care.
Here are some safety tips from the Department of Health to make sure your food is safely prepared:
· Keep raw poultry separate from other foods (especially fruits and vegetables) in your shopping cart, grocery bags, and refrigerator. Put poultry into a plastic bag to prevent drips that may contaminate other food.
· Be careful not to let drippings from poultry, packaging, cutting boards, or utensils, contaminate dishes or other surfaces in your kitchen. Cross-contamination can be a source of illness for anyone, even people who don't eat poultry.
· Always wash your hands after handling poultry.
· Use warm water, soap and paper towels for hands and a mild bleach (1 teaspoon bleach per gallon of water) solution to sanitize utensils, cutting surfaces, and countertops.
· Keep raw poultry and anything it comes in contact with separated from other foods.
· Be sure poultry is thawed before cooking. Frozen or partially frozen meat is easy to undercook.
· Cook poultry to 165 degrees F.

Foster Farms issues a statement following the recent news release from the Washington State Department of Health regarding salmonella outbreaks.

Here is their statement:

The safety and quality of our poultry products is Foster Farms' utmost priority. There is no recall in effect for any brand of chicken related to the Oregon Health Authority announcement as it is widely known that all raw chicken must be responsibly handled and properly prepared to ensure safety and quality. All raw chicken, like all raw meats, can contain bacteria that can be harmful to human health. For this reason, all raw chicken must be fully cooked to ensure safety and quality. Bacteria on food, including salmonella, are fully eliminated and present no risk with proper storage, handling and preparation.

Foster Farms does everything it can to ensure the safety of our poultry products within our facilities and our testing results demonstrate excellence. However, there is always room to provide more education and awareness about food safety practices. We want all consumers to have a safe and satisfying experience with chicken products.

Foster Farms reminds consumers that raw poultry should not be allowed to cross-contaminate other foods or food preparation surfaces. All raw poultry products should be prepared according to package guidelines and cooked to at least an internal temperature of 165 degrees F to guarantee that they have been fully cooked. Following these guidelines will ensure the safety and quality of all raw poultry products. Visit www.fosterfarms.com<http://www.fosterfarms.com> to learn more or call the Foster Farms Consumer Hotline: 800-338-1107.

Since 2005, testing results for Salmonella from the USDA-FSIS in the Pacific Northwest have consistently been well below the limits set for raw poultry. This indicates that our Pacific Northwest facilities maintained consistent process control for Salmonella. Our facilities have earned and maintained Category 1 classification - the highest performance category for Salmonella safety and control - for the last seven years.

As an industry leader, Foster Farms constantly reviews and implements new technology and practices deemed effective as part of its commitment to improving the microbial safety of poultry products.

About Foster Farms

Since 1939, West Coast families have depended on Foster Farms for premium quality chicken products. Family-owned and operated, the company continues its legacy of excellence and commitment to quality established by its founders, Max and Verda Foster. Foster Farms specializes in fresh, all natural chicken products free of preservatives, additives or injected sodium enhancers.

Food safety is Foster Farms' highest priority, and the company would like to remind consumers to always follow safe handling, preparation and storage guidelines for the preparation of fresh poultry products. All fresh poultry products should be cooked to an internal temperature of 165°F to ensure optimal quality and safety.