Washington Evaluating Options for Leaking Hanford Tanks
Posted:
Updated: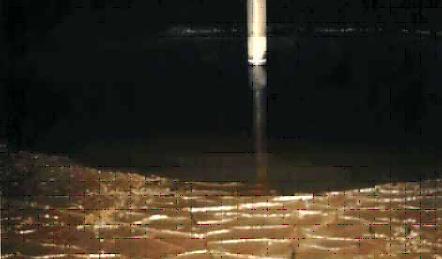 OLYMPIA, Wash. - The Washington state Department of Ecology says they are considering a number of options to deal with six leaking tanks at Hanford, including covers over the tanks to prevent rainfall from getting into them.

Jane Hedges, a member of the department, says two such covers have already been installed at the reservation's tank farms and have decreased the amount of moisture getting in to the tanks.

On Thursday, she told members of the state Senate Energy, Environment, and Telecommunications committee that federal and state officials are still evaluating their options for getting the leaks under control.

Gov. Inslee also called for additional tanks to be installed to transfer waste out of the leaking ones.

Hedges described the sludge in the 149 underground single shell tanks and 28 double shell tanks as that of organic peanut butter consistency, where the oil separates and floats on top. Hedges says the hazardous and radioactive sludge often times does the same and could produce a liquid inside after some time.
Hedges said they first became aware of possible leaks in Summer. However, she explained the reason they couldn't always accurately measure a leak is because the sludge is so hazardous, it would melt any camera or object that would be put in the tank.
As far a solutions go, Hedges said they are looking into several options which all come with challenges. Hedges said the option of moving the sludge into other tanks would be timely and dangerous. She said building new tanks to move the materials into could take anywhere from five to seven years to construct and each tank, costing anywhere from $150 to $500 million per tank.
She said moving sludge could be dangerous, and would have to be done remotely. And pumping the liquid out is also problematic. "There's a lot of complexities about pumping these tanks out. They do not have pumps in them. They would have to be installed and we have the issue of where are we going to put it because our double shell tanks are almost full.," said Hedges.
She said an evaporator could also be dangerous. "Then you have heat issues, and that's a very scary thing at Hanford that we really have to be careful of, that we don't let those tanks get too hot," Hedges said it could cause an explosion.
Russell Daniel, Bechtel's project technical director testified that completing the vitrification plant is really the only long term solution. He said the design is 80% complete and construction is halfway done but there are some technical problems
Senator Sharon Brown said the Department of Ecology and Energy need to work with the state to expedite the process.
For now, ecology has placed covers on two of the underground leaking tanks to keep the rainwater out.