Donations Help Disabled Dog Walk Again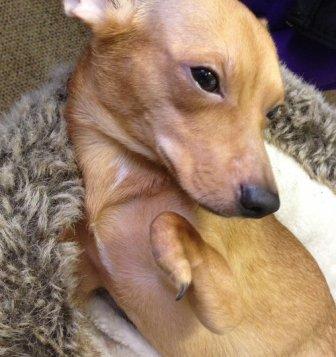 Victory, a copper-colored Chihuahua mix, couldn't be more deserving of her name.
The disabled pup was found wandering the streets of Dearborn, Mich., a few weeks ago and brought to the Dearborn Animal Shelter. Born with deformed front legs, Victory must hobble awkwardly around the floor, like a baby kangaroo taking his first few insecure steps, just to get around.
But that will all change very soon when she receives a pair of wheels — paid for by donations from around the world — that will take her where she needs to go (on many victorious chariot rides, we hope).
"We thought that she needed some name that really described how she looked at life and the fact that she survived when many animals with deformities don't," Elaine Greene, executive director of Friends for the Dearborn Animal Shelter, a nonprofit that runs the shelter, told TODAY.com. "She has such a wonderful personality and spirit that we felt she's been victorious over what could be barriers that stand in her way."
When no one came forward to claim the 1 year old dog at the shelter, staff began to consider ways to improve her mobility. As there was no surgical solution, they looked into a combination of three orthopedic devices that proved prohibitively expensive at $2,000.
That is, until the shelter mentioned Victory's situation in a newsletter last week that quickly attracted the attention of local news media. Within a week they had met their goal three times over, and have received $7,000 so far.
"We really appreciated the response," Greene said. "We were so surprised by how quickly the news traveled. Within a few days we were getting calls from all over the United States, and even the Philippines."
The money is going toward three apparatuses that are being made for Victory: a protective vest for when she is just lazing around, a sled-like device so she can easily move around carpet and a set of wheels for exploring the great outdoors.
Mobility and a new name aren't the only things she will have gained since arriving at the shelter. She's found a new friend in Greene, who's letting the pup stay with her until they find Victory the perfect home.
"We're all very attached to her, and she to us, so we're looking for a very special situation," she said. "Right now she's acclimating fine in my household, but I don't know that's the right choice for her. I know it's going to break my heart when she leaves."
While many people have already shown an interest in adopting Victory, Greene isn't in any rush. Shelter staff wants the dog to acclimate to her new devices before making any life changes. And Greene has big plans for Victory.
"I would really like her to get a job working with people with disabilities," she said. "If I could find a way to add that into her new life, that would be great."
By: Danika Fears, TODAY