UPDATE: One Of The Individuals Found In Cheney Identified
Posted:
Updated: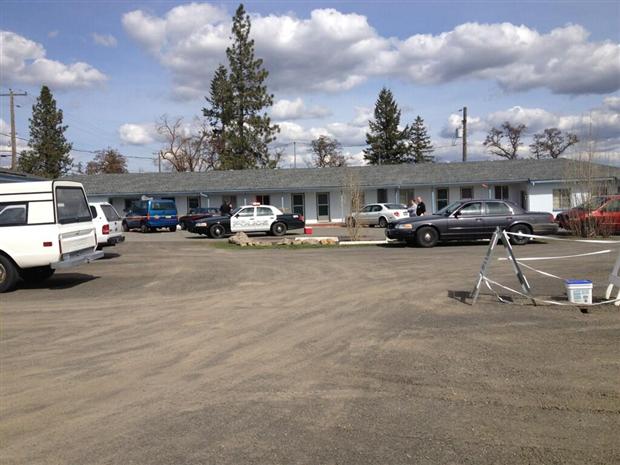 PHOTO: KHQ
SPOKANE COUNTY, April 2, 2013 – The Spokane County Medical Examiner's Office has confirmed the identity of both individuals found on March 30, 2013 in a Cheney apartment complex.
66-year-old David (Reena) Andrews shot and killed 46-Year-Old Erin (Roman) Michele Bailey and then shot and killed himself.

Spokane County Sheriff's Department Press Release:
On Saturday, March 30, 2013, at about 11:40 a.m., Cheney Police Department responded to a welfare check at 304 W. 1st Street. Cheney Officers had information from the caller that there were two possible homicide victims inside the residence. Officers responded to the scene and confirmed there were two deceased victims inside the residence.
Spokane County Major Crimes Detectives and Forensic Investigators were requested to assist with the investigation. After a search warrant is obtained for the residence, investigators will continue the investigation.
At this point in the investigation investigators do not suspect anyone outstanding. Once the scene investigation is complete, the Spokane County Medical Examiner's Office will take custody of the victims. The Medical Examiner will release identity of the victims after they complete their investigation.
Previous Coverage:
CHENEY, Wash. - The Spokane County Sheriff's Office is on scene at the Rosebrook Inn in Cheney assisting the Cheney Police Department in the investigation of an apparent murder/suicide.
Authorities on scene tell KHQ there are two people dead inside one apartment. The two victims appear to be neighbors in the complex. A gun along with two casings were found in the apartment.
The Spokane County Sheriff's Department is taking the lead on the investigation.