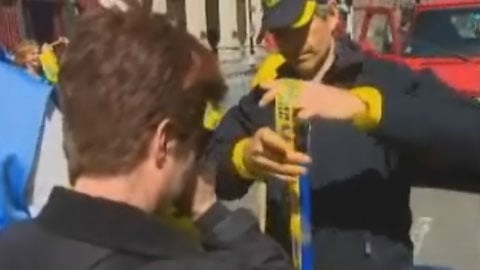 (WHDH) To some, it's just a shiny piece of metal hanging at the end of a colorful ribbon.

But to marathon runners, the medal earned for running 26 miles is proof of physical and mental toughness.

When Monday's explosions stopped the Boston Marathon hundreds were denied the chance to earn the elusive trophy.

On Tuesday that changed when race organizers honored all marathon runners with the coveted memento.

Dana Krashin was running in her first marathon for Team Hoyt, running and raising money for those who can't.

Now she realizes there will be even more families now to run for.

"We run all of this for those who can't and tell everyone they can do whatever they want to do," she says.

Runner after runner who did not finish the race came for their bags, and while they say they don't deserve it, they even got their finishing medals.

"I wanted to keep running. I was honestly like, just keep going and they were likely physically stop," said Caroline Burkard.

They came to gather what they left behind after a day they will never forget.

"To be done here," said Kerin Eaton. "You would think it would be such a great feeling about finishing the race. The whole area would be so hyped up but its just crazy that everyone's crying and praying. I can't believe it."