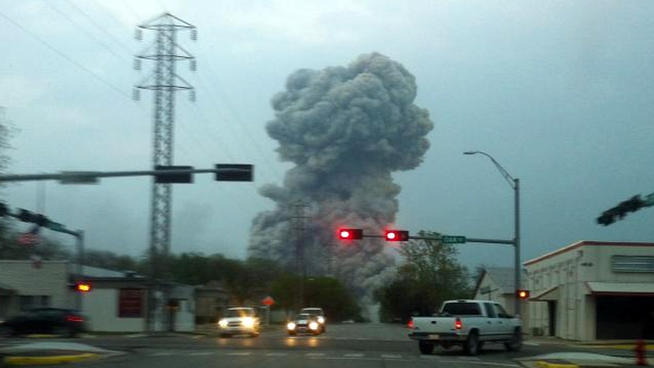 Photo: KXAS
UPDATE/WEST, Texas (AP) - The mayor of a Texas town where an explosion leveled a fertilizer plant says he doesn't yet know how many people were hurt or killed in the blast.

West Mayor Tommy Muska said at a news conference that there was a fire at the West Fertilizer plant before Wednesday night's explosion.

The blast could be heard at least 45 miles away and it caused major damage to surrounding buildings.

An official from a hospital in nearby Waco says at least 66 people were taken for treatment there, including 38 who were hurt seriously.
PREVIOUS COVERAGE:

WACO, Texas (AP) - Authorities say an explosion at a fertilizer plant near Waco, Texas, has injured several people.
The mayor of the small town says city authorities don't yet know how many killed or hurt in the Texas fertilizer plant blast.

A dispatcher with the West, Texas, Fire Department says the explosion happened Wednesday night at a fertilizer plant in the community north of Waco. She says any casualties would be taken to hospitals in Waco.

Gayle Scarbrough, a spokeswoman for the Department of Public Safety in Waco, told television station KWTX that DPS troopers have been transporting the injured to hospitals in their patrol cars. She says six helicopters were also en route.

KWTX reports that the explosion at West Fertilizer was reported at around 7:50 p.m. in a frantic call from the scene.