SALUTING THE BRAVE: Thousands Remember The 3 Fallen Airmen Of Fairchild Air Force Base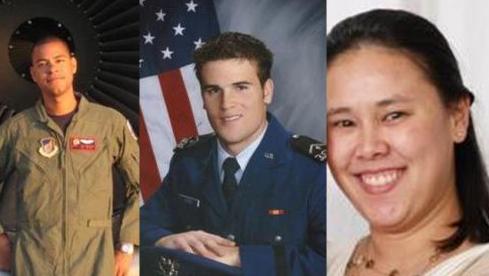 SPOKANE, Wash. - A public memorial was held on Tuesday afternoon to remember Captain Victoria Pinckney, Captain Mark Tyler Voss and Technical Sergeant Herman "Tre" Mackey.
The three airmen died when their KC-135 air tanker crashed in the mountains of Kyrgyzstan. All three airmen were stationed at Fairchild Air Force base in Airway Heights. On Tuesday the airmen were honored with a full military memorial including a 21 gun salute the playing of taps and friends & family of the fallen airmen paying tribute speaking to the crowd of around 1,000 people.
The mother of Capt. Mark Tyler Voss, Marcelle Voss was the only family member to publicly speak at the memorial. "Tyler followed his passions. As a child he dreamed of being a pilot." Voss said about her son. "He set his sights on becoming a pilot in elementary school," Marcelle said. Staff Sergeant Ben Davis also spoke to the crowd about his friend and fellow airmen Herman "Tre" Mackey. Mackey was a husband and father to his daughter Peyton.
"He was a family man" Davis said. "Everyone was always welcome at the Mackey house." Captain Victoria Pinckney was a wife and mother. Her friend Captain Ashly Barnes spoke about Pickney's life Tuesday. "Behind that infectious smile was a woman who knew what she wanted in life" Barnes said. "We should never stop celebrating the life of a person who had so much life to celebrate."
All three airmen are combat veterans of Operation Enduring Freedom. The deaths of the 3 airmen mark the first since 1999 that Fairchild tanker crew has been killed. The cause of the most recent crash is still under investigation.