Dozens Injured, One Killed In La. Plant Explosion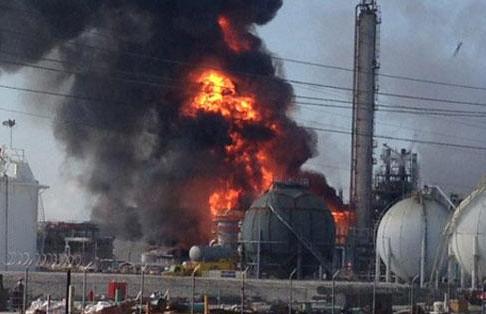 Courtesy: WAFB
UPDATE/GEISMAR, La. (AP) - A ground-rattling explosion at a chemical plant in Louisiana ignited a blaze that killed at least one person and injured dozens of others. Louisiana's health department says 77 people were treated at hospitals for injuries ranging from minor to critical following the Thursday morning explosion.

Health department spokeswoman Christina Stephens says by the evening, 51 had been discharged. She says hospitals reported that workers mostly had burns, cardiac and respiratory issues and bruises.

State police say the body of a 29-year-old man was found in the plant owned by The Williams Companies Inc.

Police say all workers had been accounted for by Thursday afternoon.

The company said the blast happened at 8:37 a.m. at the plant in an industrial area of Geismar, a Mississippi River community about 20 miles southeast of Baton Rouge.
PREVIOUS COVERAGE:

GEISMAR, La. (AP) - Officials say ambulances and helicopters have taken at least 30 people from a burning chemical plant after an explosion in Louisiana.

Residents of the community of Geismar, about 20 miles southeast of Baton Rouge, were told to remain indoors with doors and windows closed.

Department of Environmental Quality spokeswoman Jean Kelly says helicopters took three or four people Thursday from the plant owned by The Williams Companies Inc., and ground ambulances took 30. She did not have other details about injuries.

Kelly says tests have not found dangerous levels of chemicals in the air so far.

Louisiana State Police Capt. Doug Cain says the explosion occurred around 8:30 a.m. Thursday at the plant. It makes ethylene and propylene - highly flammable gases that are basic building blocks in the petrochemical industry.