Dust Devils Drop Season Opener to Canadians
Posted:
Updated: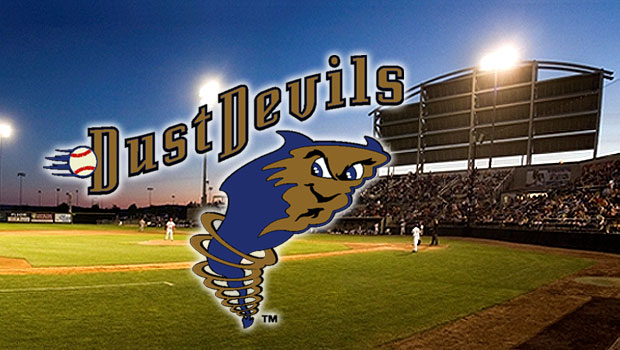 From Tri-City Dust Devils
PASCO, Wash. - Vancouver 'Walks' Away with Victory
Although they out-hit the Vancouver Canadians, the Tri-City Dust Devils dropped their 2013 season opener in front of 3,272 fans at Gesa Stadium, 9-5. Control troubles for the Dust Devils' (0-1) pitching staff led to several opportunities for the Canadians (1-0) throughout the game, which they took advantage of. Four runs in both the fifth and sixth innings for Vancouver gave their bullpen plenty of room to secure their first win since taking home the 2012 Northwest League championship.
Former Colorado Rockies first-round pick Peter Tago started on the mound for Tri-City and held the Canadians hitless through three innings. But several walks put Tago (0-1) in tough situations which he ultimately couldn't work out of. He ended the night allowing seven runs, six earned, on two hits while walking seven.
Down 8-1, the Dust Devils rallied to score two runs in the sixth and another in the seventh, thanks to runs batted in from designated hitter Ashley Graeter and Zach Osborne, to make the score 8-4. Tri-City then trailed 9-4 heading to the bottom of the ninth inning where they would cut the Canadians lead to four at 9-5 with Graeter's second run batted in on the night. But with the bases loaded and two out, the Canadians shut the door and took home their first victory of the season.
Vancouver starter Eric Brown (1-0) took home his first victory of the season, going five innings and allowing one run on two hits while walking three and striking out one. The Canadians' bullpen put together a team effort, with four different relievers combining to throw the final four innings of the game. The bullpen allowed four runs, all earned, over those four innings while striking out three and walking five.
The second game of the 2013 season-opening three-game series between the Dust Devils and Canadians is Saturday night at Gesa Stadium and will feature a post-game fireworks show presented by Back to Basics Chiropractic. Tri-City will look for their first win of 2013 with left-hander Jayson Aquino getting the start. Opposing Aquino for the Canadians will be lefty Kyle Anderson with first pitch at 7:15 p.m.