Mehrten Sparks Tri-City in Series Finale
Posted:
Updated: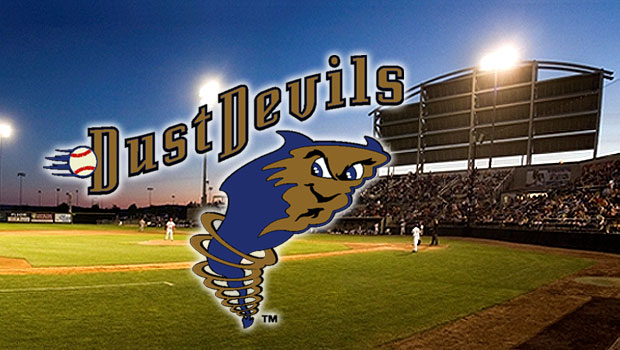 From Tri-City Dust Devils
PASCO, Wash. - The Tri-City Dust Devils came away with their second straight one-run victory, defeating the Vancouver Canadians 4-3 on Sunday night. Alec Mehrten came through at the plate for Tri-City, driving home three of the team's four runs. The win clinched the victory for the Dust Devils in the opening series of the season.
Tri-City (2-1) got the early lead thanks to Mehrten. The returner from the 2012 squad hit a triple to drive home the first run of the game that put the Dust Devils on top 1-0. Both Tri-City starting pitcher Johendi Jiminian and Vancouver starter Jeremy Gabryszwski were effective and efficient during the middle innings. At one point Gabryszwski combined with Vancouver reliever Justin D'Alessandro to retire 17 straight Dust Devils.
The lead for Tri-City disappeared in the seventh inning. Jordan Leyland hit a solo home run that started a three-run inning for the Canadians that put them on top 3-1. Vancouver held the lead until the bottom of the eighth inning, when a two-out rally put the Dust Devils back on top. Patrick Hutcheson provided a two out single to pull Tri-City within one-run. It was Mehrten who provided the deciding blow, driving in two runs with a double that gave the Dust Devils the lead that they would not relinquish.
Trent Blank slammed the door shut on the Canadians to earn his second save of the season. Marc Magliaro (1-0) picked up the win out of the bullpen in his professional debut. D'Alessandro (0-1) suffered the loss in relief for the Canadians.
The Dust Devils will pack their bags to begin an eight-game road trip Monday morning. Tri-City will start a three-game series with the Everett AquaSox on Monday before heading to Eugene for a five-game series at PK Park starting Thursday. The eight-game road swing is tied for the longest trip of the season for the Dust Devils. The team returns home on June 25th to face the Everett AquaSox in a three-game series.