Bald And Beautiful: Spokane Hairstylist Chooses Family Over Her Job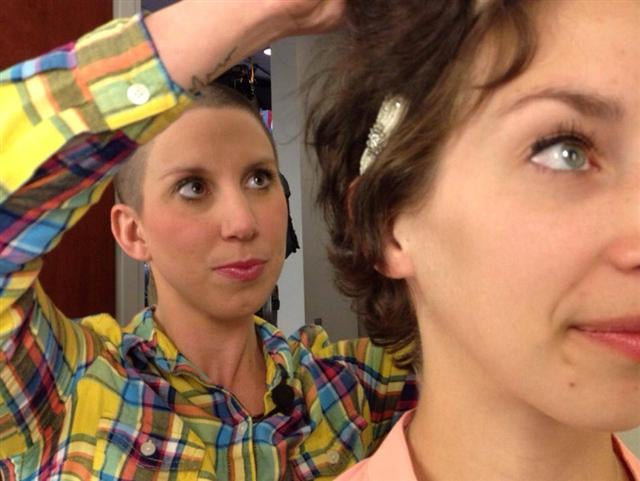 Melanie Strandberg worked as a salon supervisor at La Rive Salon and Spa inside Northern Quest Resort and Casino.
About a week ago, she decided to shave her head to show support for her sister who has stage III ovarian cancer.
Strandberg never thought that decision would make her feel forced to quit a job she loved after her boss told her to cover her head while at work.
Melanie has since filed harassment and discrimination claims against the spa.
She says she hopes to continue her career as a hairstylist.

Below is the resignation letter Melanie submitted to her superiors as well as a response from Northern Quest Resort & Casino.

Melanie's letter:

To whom this may concern,
I am writing this to put in my two weeks resignation as my job as salon supervisor. It is with great sadness I express to you my concern in regards to why I am leaving. As you know I recently shaved my head in support of my sister who has cancer. I am a proud supporter and I believe she, along with every other women battling this illness is beautiful and should be celebrated. I chose to publicly support her by shaving my head. When I was told that a wig would be required at work I was mildly offended. However, the statement following is what really did it for me. I was told I could possibly offend guests and would not be able to market hair sales without hair. I believe none of this to be just nor true In the least bit. I feel I would inspire and do our community proud in showing my support. I did not do this to hide it or to be made feel insecure about myself. I can only hope that someone fighting cancer never gets told that they may offend someone due to their appearance or be incapable of mastering their job. So with this I'm sorry. I'm sorry that you are losing a great employee due to the companies views on what you consider beautiful. I consider myself, my sister,and every bald women out there beautiful and strong! I will not wear a wig to work and I will not hide my support for the so many battling this illness in the community and all over the world. Thank you for your time.
Melanie

Below is the official statement from Northern Quest Resort & Casino:

Late in the day on Thursday, June 13, one of our employees, Melanie Strandberg, resigned via text message, saying that she was asked to wear a wig after shaving her head in support of her sister, who has cancer.
We are very concerned about Melanie's reported experience. It is inconsistent with our values, culture and past practices and it's unacceptable. Right now we're conducting a thorough internal review to determine the facts. We would welcome the opportunity to talk with Melanie directly and have made that offer repeatedly.
To be clear, Northern Quest does not have a policy that prohibits team members from shaving their heads. And there is NO policy that requires someone with a shaved head to wear a wig. Over the years we have had other team members who have undergone treatment for cancer and others who have shaved their heads in support of family or friends.
Melanie's job is still here for her. We recognize this is an emotional and stressful situation for her and her family. We hope she will choose to stay on as a member of the Northern Quest team.
Melanie and her sister are the daughters of our on-air talent Leslie Lowe. Please understand that this story is about the sisters and that Leslie has no stake in it.