Sweets Extend Streak with Win Over Wenatchee
Posted:
Updated: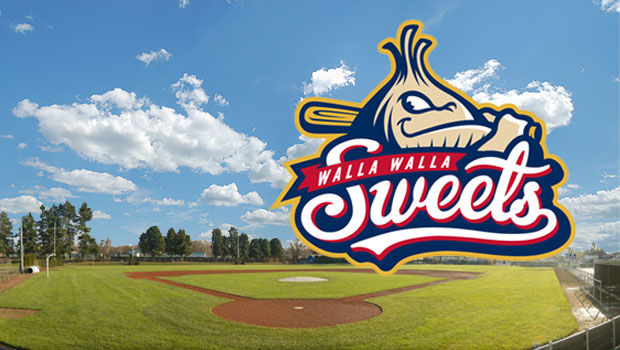 From Walla Walla Sweets
WALLA WALLA, WA -- The Walla Walla Sweets got a stellar outing from Bret Helton in his first start of the 2013 season as he struck out eight hitters en route to the Sweets' 2-0 win over the Wenatchee AppleSox Tuesday night at Borleske Stadium. Connor Dillman earned the save in 2.2 innings of relief, his first of the year.
AppleSox left fielder Brett Stephens walked to start the game but Helton induced a ground-ball double-play and a pop out to shortstop to get out of the first inning. He retired the first four hitters he faced before allowing back-to-back singles in the second inning. With Wenatchee first baseman Connor Spencer at first base, right fielder Ryan Barr singled to right field where Kris Paulino, just arriving for his second season with the Sweets, overthrew the cutoff man to put runners at second and third. Helton struck out catcher Eric Hutting looking, and of his eight strikeouts, four were a called strike three.
"I felt pretty good. My control was working and I had three pitches today, which is good," Helton said. "I could work off all three, and it worked out."
Helton pitched from the stretch the entire night, not the windup, something he said he realized he'd be more comfortable doing since before the game even started.
"I wasn't getting my balance, so I found that early, and since the windup wasn't working for me, I just ended up going stretch the whole game," he said.
Three times Tuesday night Wenatchee had runners at second and third, and each time Helton stranded them on the base paths. The defense behind him helped as well as left fielder Mike Paulson threw third baseman Stockton Taylor out at the plate for his second outfield assist of the year, preserving the shut out in the top of the fourth.
He recieved some offensive support in the bottom of the inning as well, which ended up being all he would need. Sweets Catcher Dom Miroglio singled to left field with one out, and first baseman Matt Mendenhall followed suit with another single to left. With two out, shortstop Nick Vilter notched the third single of the inning to send Miroglio home and Mendenhall to third base. With Walla Walla ahead 1-0, designated hitter Jarod Gonzales reached on an error at third base to score Mendenhall and put the Sweets ahead for good, 2-0.
Dillman allowed three hits but didn't allow a run to score as he struck out three AppleSox hitters in relief. With the win the Sweets are now 6-4 in the West Coast League North Division standings while Wenatchee falls to 4-6 in the division. Starting pitcher Trevor Lubking took his second loss of the year in 5.2 innings of work, with three strikeouts and five hits allowed.
Game two in the series starts tomorrow with a 7:05 p.m. first pitch. Jonathan Harris is the scheduled starting pitcher for Walla Walla.