Five-Run Seventh Dooms Dust Devils
Posted:
Updated: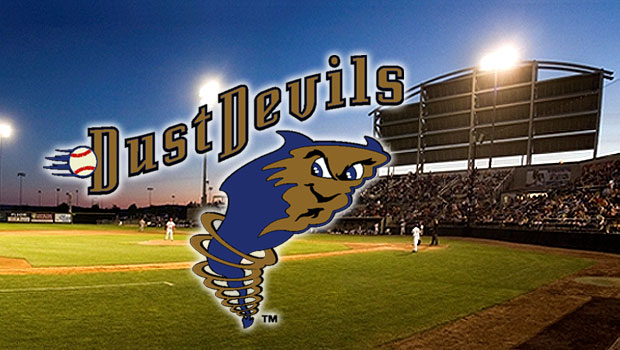 From Tri-City Dust Devils
PASCO, Wash. -- One big inning doomed the Tri-City Dust Devils Tuesday night, as they dropped the series opener with the Everett AquaSox 5-2. Tri-City held a 2-0 lead throughout most of the game, but five Everett runs in the seventh inning gave the AquaSox a lead they would not surrender.
Dust Devils (5-7) starting pitcher Jayson Aquino unfortunately had a great start go to waste. The lefty threw 6 1/3 innings in which he allowed one run on five hits while striking out three and walking none. The trouble began when reliever Shaun Stuart (1-1) came in for Aquino and allowed the other four Everett (10-2) runs without recording an out. The Tri-City bullpen then picked up where Aquino left off as relievers Huascar Brazoban, Bruce Kern, and Anthony Seise combined to throw the final 2 2/3 innings without allowing a run.
The Dust Devils' offense, which has struggled of late, got off to a hot start by scoring two first-inning runs. A lead-off walk from centerfielder Wilson Soriano was followed by a timely hit-and-run which was executed well by shortstop Alec Mehrten. With runners in scoring position, right-fielder Mike Tauchman and third baseman Michael Benjamin delivered back-to-back run-scoring infield base hits to put the Dust Devils in front 2-0. But the Tri-City offense sputtered afterward, tallying just three hits after the first two innings. Benjamin and Mehrten led the way for the Dust Devils offense, with each going 2-for-4 on the night.
Everett starting pitcher Steven Ewing pitched well after allowing the two early runs. He threw five total innings, allowing just the two runs on six hits while striking out four and walking three. Reliever Richard White (1-1) earned the win for the AquaSox and righty Jose Valdivia (Sv, 1) earned the save as the two combined to throw four shutout innings to end the game.
Game two of three between the Dust Devils and AquaSox is Wednesday night at Gesa Stadium as Tri-City tries to even the series.