Tri-City Drops Pitcher's Duel Versus Everett
Posted:
Updated: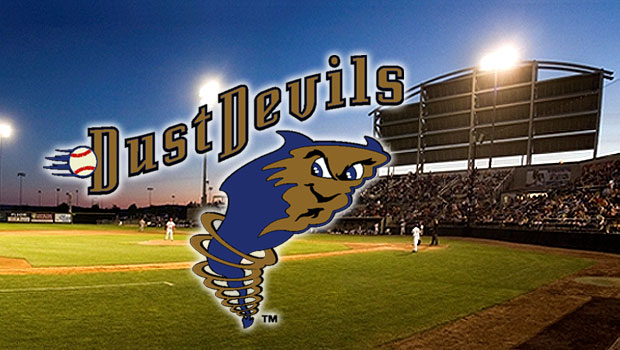 From Tri-City Dust Devils
PASCO, Wash. -- The Tri-City Dust Devils couldn't figure out the Everett AquaSox pitching staff Wednesday night, dropping game two of the three game series in front of 3,354 fans at Gesa Stadium. The game was scoreless through six innings until Everett third baseman D.J. Peterson delivered a run-scoring double in the seventh, giving the AquaSox all the lead they needed to secure the victory.
Dust Devils (5-8) starting pitcher Johendi Jiminian (0-1) continued the trend of quality performances from Tri-City starters, throwing seven innings and allowing the two Everett (11-2) runs on five hits while striking out three and walking one. Relievers Marc Magliaro and Trent Blank kept the deficit within reach, combining for two perfect innings. The pitching staff was helped by some great defensive plays from outfielder Wilson Soriano, who recorded two outfield assists on the night.
While the Dust Devils' bats struggled, shortstop Alec Mehrten continued his quality play, going 1-for-3 and improving his batting average to .313 on the season.
Everett starting pitcher Lars Huijer (2-0) had his best outing of the season, throwing seven shutout innings while allowing four hits and striking out nine and walking one. His bullpen made sure the lead stuck as reliever Min-Sih Chen threw a scoreless eighth and Aaron Brooks (Sv, 2) recorded his second save of the season by throwing a perfect ninth.
The series finale between Tri-City and Everett is Thursday night at Gesa Stadium.