Riders Really Roll at Maryhill Festival of Speed
Posted:
Updated: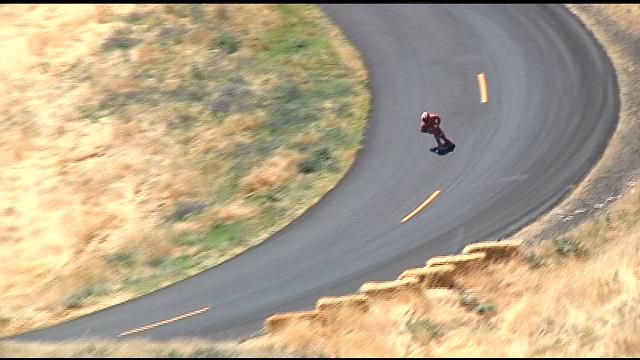 GOLDENDALE, Wash. - Going 50 MPH down a hill on a skateboard might be a suicide mission for some, but for the riders at the 7th annual Maryhill Festival of Speed, it's a sport.
"It's just such a fun course and this is a great event. All of the different teams come here as families and just a great atmosphere lots of fun. The track is so much fun, it's pretty easy and well organized," said Amanda Powell, fastest female qualifier.
Riders, who both stand and lie on skateboards, come from all over the world to take part in the festival in Goldendale, Washington.
"There's 237 athletes from 20 countries attending. I'm actually having to send people home there's from Brazil and Japan that actually showed up and weren't even registered for the event and wanted to get into the event," said John Ozman, Maryhill Festival of Speed organizer.
While other courses may be faster or more difficult, the Maryhill course has history.
"Maryhill Loops Road is a historic road, it's the first paved road in the state of Washington. It's the Mecca of downhill skateboarding and longboarding right now," said Ozman.
"You really race your competitors here, it's not so much about the technical difficulties of the hill. So when everybody's on the road everyone's pretty equal, so it can be challenging. It's more of a chess game, you have to kinda plan ahead where you want to pass for something like that," added Kevin Reimer, Maryhill course record setter.
Races continue through out the weekend and admission to the races are free.