UPDATE: Bond Set At $500,000 For CDA Sexual Assault Suspect
Posted:
Updated: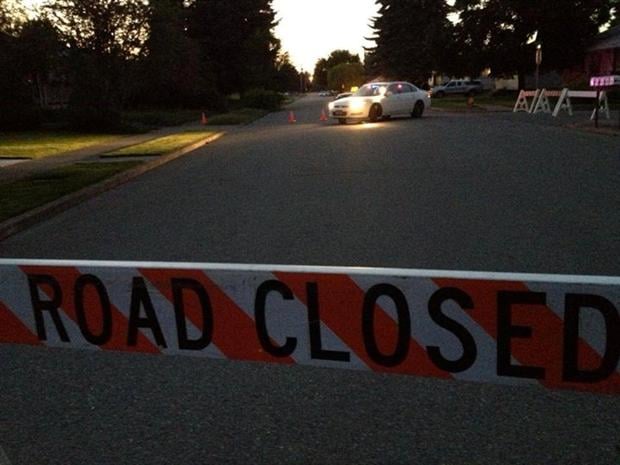 PHOTO: KHQ
COEUR D'ALENE, Idaho -
UPDATE: Coeur d'Alene Police detectives obtained a warrant of arrest for Michael David Nixon, for the related incidents to the police stand-off in the 2000 block of 7th St. on 070213.

Nixon has been charged with Kidnapping in the 1st degree, Rape, and Lewd Conduct with a minor. His bond is set at $500,000. He remains at Kootenai Medical Center or treatment of self-inflicted injuries.
His injuries are non-life threatening. He is under police hold and will be transported to the jail when he is released from KMC.

No further details are being released about these crimes at this time due to the victim being a minor child of the age of 13.
PREVIOUS STORY:

One person is in custody after a nearly 9 hour standoff with law enforcement in Coeur d'Alene following a reported sexual assault of a girl.
The suspect has been identified as 31-year-old Michael Nixon.
Early Monday evening officers obtained a search warrant and a warrant for arrest of Nixon who they believed was involved in an alleged sexual assault.
According to Lt. Rob Turner with the Coeur d'Alene Police Department, they received a report of the assault early Monday in a home in east Coeur d'Alene.
When officers attempted to make contact with Nixon he barricaded himself inside a home.
Officers blocked off a perimeter around the home and called in a SWAT team, along with their Hostage Negotiating Unit in an attempt to get Nixon to give himself up.
Finally, just before 10pm the SWAT team used a robot to search rooms in the house and were able to locate Nixon and take him into custody.
He was treated to multiple self inflicted cuts and taken to the hospital.
Nixon is being charged with Lewd and Lascivious conduct, Kidnapping and Rape.
Lt. Turner says the female victim was able escape earlier Monday by running to a neighbor's house and calling for help when the man holding her fell asleep.
We're told she has serious but non-life threatening injuries.
Nixon reportedly does have a criminal history, and officers believe he has a background with weapons and that's why they were approaching the situation with extreme caution.
7th avenue is now back open.
Police say this is about the best outcome to this situation they could have hoped for.
Previous Coverage:
UPDATE From KHQ Local News Reporter Patrick Erickson: The sexual assault suspect is in custody and reportedly has self-inflicted wounds. 31-year old Michael Nixon is now in custody facing charges including rape and kidnapping. He was taken into custody without incident and transported to the hospital with self inflicted cuts to his neck and arms.
The victim has serious but non-life threatening injuries.
Police will be on scene for a few more hours investigating.
Previous Coverage:
UPDATE: Police have obtained a search warrant for the home, and an arrest warrant for the suspect.
KHQ Local News Reporter Patrick Erickson is on scene getting more information right now. Follow his updates on Twitter @patrickerickson & on Facebook. Just search for KHQ Patrick Erickson.
Previous Coverage:
Coeur d'Alene Police are currently investigating a sexual assault near the area of 7th & Hattie. The SWAT team is on scene and roads in the area are blocked off.
Police say the barricaded suspect sexually assaulted possibly a female relative, who is a minor. The assault happened last night and the suspect held the girl captive until she was able to escape today when the suspect fell asleep.
The victim contacted police and when police went to the home of the suspect, he barricaded himself in the house.
Right now the SWAT team and a hostage negotiator are on scene, but they have not been in contact with the suspect.
KHQ has a crew on scene getting more information and we will update this story as soon as we know more.