UPDATE: Spokane Valley Duplex Destroyed In Fire
Posted:
Updated: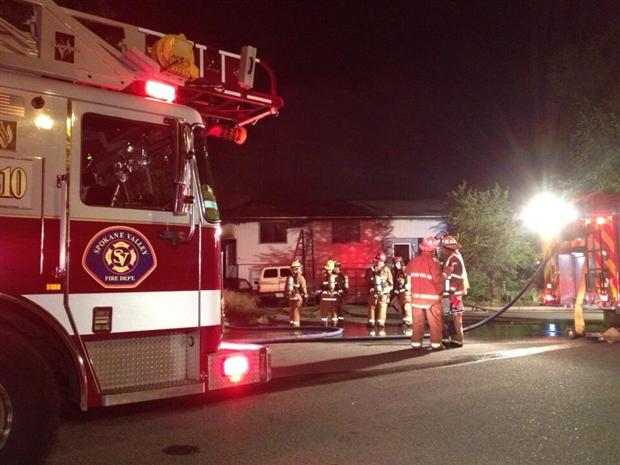 PHOTO: KHQ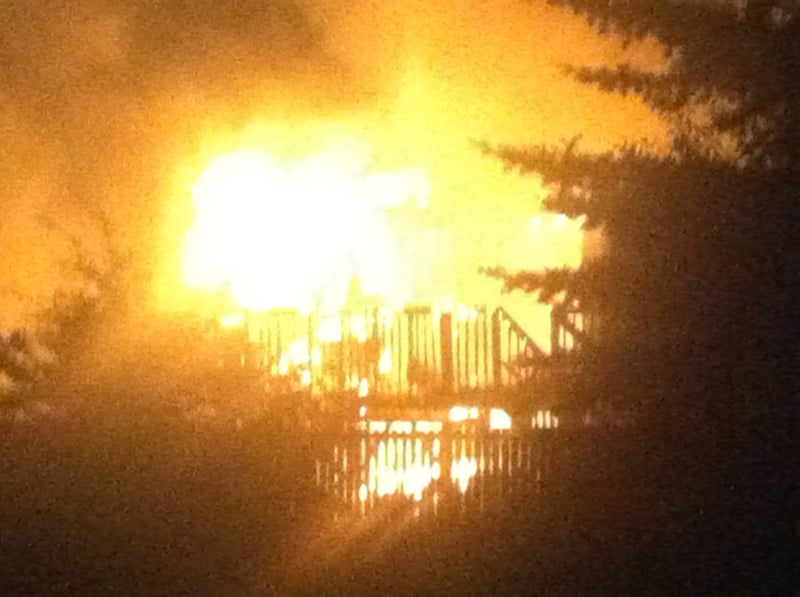 PHOTO: KHQ Viewer Kenna Tarbert
SPOKANE VALLEY, Wash. -
PRESS RELEASE FROM THE SPOKANE VALLEY FIRE DEPT: Resources from the Spokane Valley Fire Department (SVFD) were dispatched at 11:22 P.M. Monday to a reported structure fire at 208 S. Rees Ct. in the Spokane Valley. The initial arriving. engine company, at 11:27 P.M, reported heavy black smoke and flames were visible from the roof, front and back side of one occupancy in a duplex residential structure.
Four engine companies, one ladder, and two battalion chiefs responded to this incident, with a total of 18 personnel assigned to the incident. The fire was substantially extinguished approximately 20 minutes after the initial dispatch. SVFD crews used an interior fire attack to contain this fire to one occupancy of the duplex. Fire fighters aggressively searched both residences for possible occupants and confirmed both occupancies were vacant.
Neighbors noticed flames coming from the street side of the duplex and immediately called
9-1-1. The reporting party also noted two individuals, a Caucasian male and Caucasian female fleeing the residence and leaving the scene in a maroon 2 door Honda. The duplex is in foreclosure according to neighbors and reported to be frequented by transients.
No firefighter injuries were reported at this incident and crews remained on scene for several hours conducting overhaul operations designed to ensure that no hidden fire remained.
The cause and origin of the fire is currently under investigation by Spokane Valley Fire Department investigators. Damage is estimated to be approximately $60,000.
Residents in this neighborhood have been very proactive in monitoring activities at the property and reporting their observations to the Spokane Valley Police Department. This information may be useful in identifying individuals responsible for setting this fire.
Neighborhood Watch type programs are of great assistance to both law enforcement and fire agencies. In this situation, early access to 9-1-1 allowed for a timely fire department response and preventing the spread of fire to neighboring residences.
PREVIOUS STORY:

KHQ.COM - Spokane Valley firefighters responded to a structure fire in the 200 block of S. Rees Court near the intersection of 4th and Evergreen Monday night.
The call came in just before 11:30pm and when firefighters arrived, they found heavy smoke and flames coming from a duplex.
Fire crews were able to extinguish the flames, though there is extensive damage throughout the structure. Firefighters say one side of the duplex was empty, the other was being rented, but the residents were not home at the time of the fire. No injuries have been reported. The cause is under investigation.