Late-Inning Struggles Cost Dust Devils
Posted:
Updated: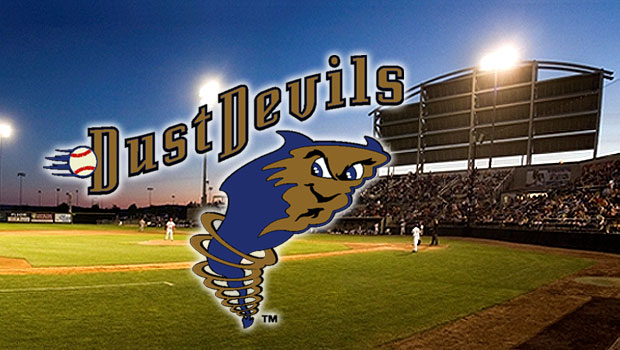 From Tri-City Dust Devils
The Tri-City Dust Devils held a 4-1 lead going into the sixth inning Tuesday night at Gesa Stadium, but missed opportunities would come back to bite the Dust Devils as they took the loss against the Spokane Indians 6-4. Two runs in the sixth and three more in the eighth put the Indians in front for good as they secured their second win in as many nights.
Tri-City (6-13) starting pitcher Ryan Warner got off to a rough start but settled down quickly. Warner allowed a lead-off triple to Indians (9-10) centerfielder Chris Garia, who would score later in the inning, to start the game. However, after the first inning, Warner would retire 10 of the next 11 batters he faced and end up scattering eight hits over 5 2/3 innings while allowing three runs. Reliever Matt Pierpont (0-1) came in for Warner and pitched well until the eighth inning, in which he allowed three runs on four hits.
At the plate the Dust Devils' offense did well to create scoring opportunities, getting the leadoff batter on base in five of nine innings. In the fifth inning Tri-City would take advantage of its chances and put three runs on the board, thanks to a run-scoring single by second baseman Cesar Galvez and a two-run single from shortstop Alec Mehrten. Third baseman Patrick Hutcheson, the Papa John's Hit Man of the game, went one-for-four on the night as well. Since he recorded a hit everyone can head to papajohns.com and type in promo code "dustdevils", where you can buy any pizza and receive a second pizza of equal or lesser value for free. This promo code is valid tomorrow only, Wednesday July 3rd, at all Tri-City locations.
Spokane starting pitcher Collin Wiles allowed all four Dust Devils runs on nine hits over five innings. Reliever Ryne Slack (2-0) came in for Wiles and threw three hitless innings to earn the win before Mike Zouzalik (Sv, 2) worked a scoreless ninth to secure the win.
The series finale between the Dust Devils and Indians is Wednesday night at Gesa Stadium.