Sweets Tied for First Place in WCL-North After 3-1 Win
Posted:
Updated: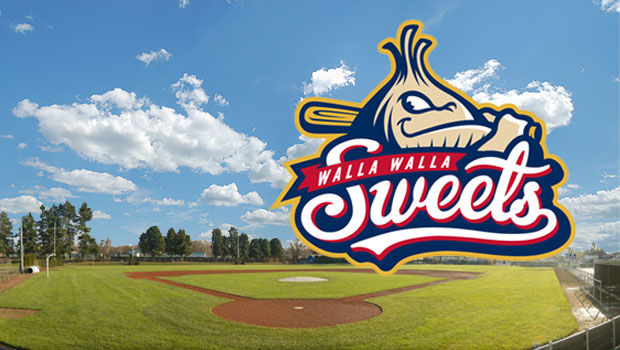 From Walla Walla Sweets
WALLA WALLA, WA -- Another sweltering hot day slowed the offense down a tad, but the Walla Walla Sweets fought back to win the series opener against the Kitsap BlueJackets 3-1 at Borleske Stadium Tuesday night. Left-hander Matt Hall took home his second win of the year after seven innings of work.
Hall allowed a lead-off single to Kitsap third baseman Andy Lack to start the game, but proceeded to retire the next six of seven hitters, only walking first baseman Daniel Orr in between. Hall stranded five runners in scoring position on the evening, allowing a lead-off base runner in four of his seven innings of work, but said he still felt comfortable on the mound.
"I felt like I was in control the whole game," Hall said. "Having a defense out there that you know has your back the whole game, that's just tremendous. Plus they know how to swing the bat, too."
Despite committing a pair of errors in the game, that Sweets defense came to Hall's aid in the third inning. Kitsap center fielder Daniel Jewett walked to start the frame and stole second base. Lack lined a ball to John Skrbec at second, who immediately turned and threw to shortstop Nick Vilter covering the second base bag to erase Jewett for a double play. BlueJacket shortstop Danny Sheehan flew out to left field to end the frame.
Kitsap responded in the fourth when Hall hit designated hitter Alex McKeon with a pitch to start the inning. Hall recorded two quick outs before a single and another hit batter loaded the bases. Second baseman Yuto Kata grounded to shortstop, but Vilter booted the play, allowing the first run of the game to score for a 1-0 BlueJackets lead.
Walla Walla bounced back in the fifth when Skrbec led off with a single to left field. Third baseman Jarod Gonzales followed with a walk before both men moved up on a wild pitch. Three hitters later, first baseman Matt Mendenhall singled with two outs to give the Sweets a lead they'd never give up.
At 2-1, another run in the seventh added to Walla Walla's lead. Designated hitter Spencer O'Neil walked to start the innng and Vilter walked in the following at-bat. Center fielder Mike Paulson drew the third walk of the inning two hitters later, and O'Neil came home to score right fielder Kris Paulino's sacrifice fly.
The win moves the Sweets into a tie for first place in the West Coast League North division with the Victoria HarbourCats at 13-9. However the team isn't too concerned with a division race just yet.
"We take it game-by-game," Hall said. "We're coming out here everyday playing ball the way we know how. If we just keep doing that, positions will take care of themselves."
Hall struck out seven in the win as Ryan Taylor took his second loss of the year for Kitsap. He finished with two earned runs and five strikeouts in 4.2 innings pitched, walking four. Three relievers out of the bullpen for the BlueJackets did not surrender a single hit to Walla Walla.
The Sweets called on Sean-Luke Brija out of the bullpen for the save, as he notched his league-leading sixth of the year. He allowed a lead-off single to left fielder Justin Gheorghe, who stole second, but a line drive to first base was caught and thrown to second to double him off and end the game.
Walla Walla continues the series with Kitsap Wednesday night. Right-hander Bret Helton is scheduled to throw the 7:05 p.m. first pitch.