Dust Devils Unable to Cool Off Indians
Posted:
Updated: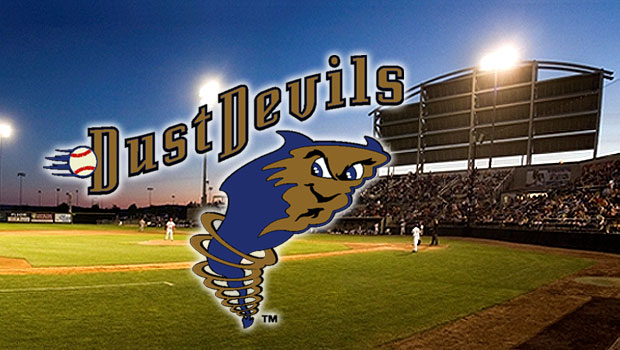 From Tri-City Dust Devils
The Tri-City Dust Devils struggled to plate runs as the Spokane Indians won 11-0 in front 3,308 at Gesa Stadium Wednesday night. The Indians (10-10) strung together 11 runs with only eight hits. Tri City also scattered eight hits, but four errors plagued the Dust Devils defensively.
Dust Devils (6-14) starting pitcher Konnor Wade came into the game with a 2.00 ERA but struggled early, giving up a run in the first inning and four in the second. Wade was able to settle in after that, allowing only one hit in his final two innings.
Tri-City manager Drew Saylor was ejected in the bottom of the third inning after a highly animated discussion with home plate umpire Kyle McCrady over what appeared to be a hit by pitch on Jose Monzon. McCrady ruled a foul ball on the pitch. Monzon would leave the game to be replaced by Marcos Derkes.
Shane Broyles made a triumphant return to Gesa Stadium. Broyles replaced Anthony Seise as the Dust Devils's pitcher in the fifth inning. Broyles pitched three innings without a hit or earned run charged to his record while striking out five and walking three.
Outfielder Sean Dwyer raised his season batting average to .271 with two hits and a walk. Dust Devils Patrick Hutcheson and Ashley Graeter both hit doubles deep into the outfield, but they were unable to score from second base.
Indians starting pitcher David Ledbetter continued his impressive season. Ledbetter pitched five shutout innings, giving up just three hits and striking out six Dust Devils batters.