Lindell Leads Sweets to 5-4
Posted:
Updated: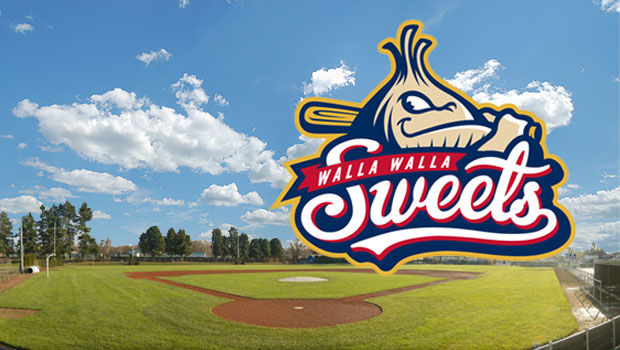 From Walla Walla Sweets
WALLA WALLA, WA -- As a kid, Kramer Lindell watched Hall of Famer Rickey Henderson hit lead-off home runs at Safeco Field like it was still batting practice, and wanted to do the same. Thursday afternoon, Lindell made that childhood fantasy a reality, helping lead the Walla Walla Sweets to a 5-4 win at Borleske Stadium. Starting pitcher Jonathan Harris notched his first win with the Sweets as Sean-Luke Brija collected his league-leading seventh save.
Lindell drove the first offering from BlueJacket starter Monty McCasland over the left field wall in the bottom of the first inning to give the Sweets an early lead after starting pitcher Jonathan Harris retired the side in the top of the frame. Harris, in search of his first win in four appearances, earned that victory over five innings of work, allowing just one earned run. He sat the first six BlueJackets down in order before allowing a lead-off double in the third to designated hitter Vince Sablan, who eventually scored the tying run on third baseman Andy Lack's single to right field.
The Sweets fell behind in the fifth as the BlueJackets tallied twice more in the inning. Shortstop Danny Sheehan reached via an error at shortstop before right fielder Connor Jones walked behind him. Each man moved up on a fielder's choice, and a walk to second baseman Yuto Kata loaded the bases. Harris unleashed a wild pitch, allowing Sheehan to score, before a two-out single by Lack gave Kitsap a 3-1 lead.
Then there was Lindell.
The Sweets took advantage of an error at third base that allowed center fielder Luke Persico to reach to start the bottom of the fifth inning. Designated hitter Zach Reay singled but was erased on second baseman Scott Silva's fielder's choice ground out to put runners on the corners. Right fielder Beau Bozett drove Reay in for a run with a single to right before Lindell's go-ahead double scored both Silva and Bozett for a 4-3 lead. He took third base on the throw to the plate, and scored two hitters later when third baseman John Skrbec reached on an error at second base, giving Walla Walla a 5-3 edge.
Lindell finished with three RBI on the night, and scored twice, but the home run to start the game was a first.
"He threw me a fast ball. Down the middle," Lindell said. "I remember watching Rickey Henderson at Safeco Field when I was a kid, and I've always wanted to hit a first-pitch home run. First one ever."
Walla Walla called on the bullpen a total of fives times Thursday, using six men to complete the Sweets' fourteenth win of the season. Right-handers Connor Dillman and Connor Lawhead tossed one inning, and two-thirds of an inning, respectively. Left-hander Drew Chrstina saw one-third of a frame as fellow lefty Sean Silva pitched the eighth innng, allowing one earned run.
Sheehan snuck a one-out single past Scott Silva at second base in the eighth, and a fielder's choice moved him into scoring position before pinch hitter Duncan Hendrickson drove him home with another base hit to right.
With the Sweets ahead by a run, right-hander Brija induced a fly out to center field to start the ninth. Lack hit a ball to third base that hopped into the sun. Skrbec could not see the ball as it sailed over his head for a one-out single. Pinch hitter Alex McKeon followed with a hit to put runners on the corners. With the tying run at third and only one out, left fielder Justin Gheorghe grounded into a 5-4-3 double play to end the game.
For Lindell, a win on July 4th made it all the "sweeter."
"It's a very sweet win," Lindell said. "It's always good to win on a holiday like this, and win the series."
The victory clinches the sixth series win for the Sweets this season, helping Walla Walla remain in first place in the WCL-North division with a 14-10 record. Kitsap falls to 10-17 with the loss. The winner of Thursday night's Victoria HarbourCats/Wenatchee AppleSox game will move into a tie for first. The Sweets return to the field to host the Klamath Falls Gems Friday night. First pitch is at 7:05 p.m.