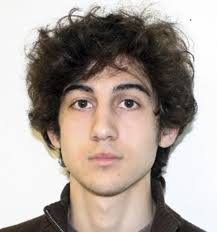 BOSTON, Mass.- Accused Boston Marathon bomber Dzhokhar Tsarnaev has arrived at the federal courthouse in Boston for his arraignment.
Tsarnaev arrived in a four-vehicle motorcade that included a van, a Humvee and a state police car.
Outside the courthouse, a dozen Federal Protective Service officers and bomb-sniffing dogs have been in place since early this morning. Reporters and spectators began lining up for seats at 7:30 a.m.
As Tsarnaev arrived, about a dozen of his supporters cheered. The demonstrators yelled, "Justice for Jahar." One woman held a sign, "Free Jahar." A woman who said she traveled from her home in Washington state to attend the arraignment said she has never met Tsarnaev, but came because she believes he's innocent.
The courthouse is expected to be jammed for Tsarnaev's first court appearance. Space is reserved in the main courtroom for victims' families. Officials have set aside an overflow courtroom to broadcast the hearing for the media.