Public Hearings Held for Endangered Flower Dispute in Franklin County
Posted:
Updated: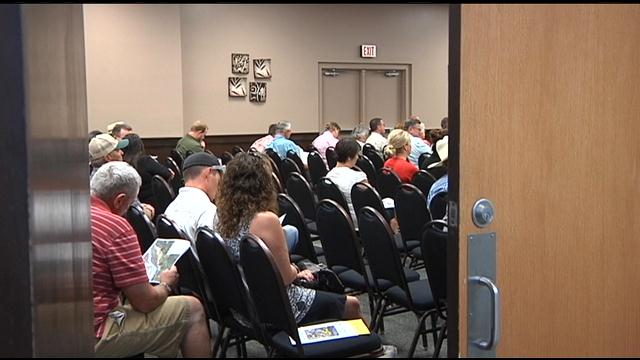 PASCO, Wash. - Some say a decision to protect an endangered plant could end up threatening agriculture in Franklin County.
Hundreds of people showed up at two public hearings at the TRAC facility Thursday to give their opinion on the issue. They're discussing a plant called White Bluffs Bladderpod, which U.S. Fish and Wildlife believes only grows in a small section of Franklin County, part of that on private farmland.
When they declared the land a critical habitat area to preserve the plant without any advance notice earlier this year, property owners Franklin County leaders disputed it. U.S. Fish and Wildlife has since put their decision on hold until they hear more from the public and get more information from landowners.
"Since May, we've been talking to many landowners, helping clear up the confusion. Helped them understand what the proposal is really about, and seeking information from them to make a better decision," said Ken Berg from U.S. Fish and Wildlife.
Berg says if the land is again designated as a critical habitat area, if will not hurt local agriculture, which has been the main concern for many of the land owners.
"We don't believe its going to have much effect at all, because critical habitat only tells federal agencies when they need to talk to us about actions they're undertaking. It does not prevent a land owner from using their land," said Berg.
Ken McMullen from the Franklin County Natural Resources Advisory Committee disagrees.
"They can shut off all agricultural practices regardless of the crop, because we feel the real intent here isn't the protection of the plant, it's the means to a larger end, and that is to shut down agriculture in the area," said McMullen.
Franklin County Commissioner Brad Peck also attended Thursday's public hearings. He says more science needs to be done before the land can before any decisions can be made.
"We will support best available science. If it turns out that it truly is a separate species, then the next responsible thing to do is look around and see if it grows elsewhere. Because just because it's a separate species doesn't mean its endangered," said Franklin County Commissioner Brad Peck.
McMullen says the advisory committee has submitted a DNA test for the plant, to determine if in fact it is endangered and needs to be protected. The results should be in by the end of the month.