Dust Devils Fall Short of Comeback
Posted:
Updated: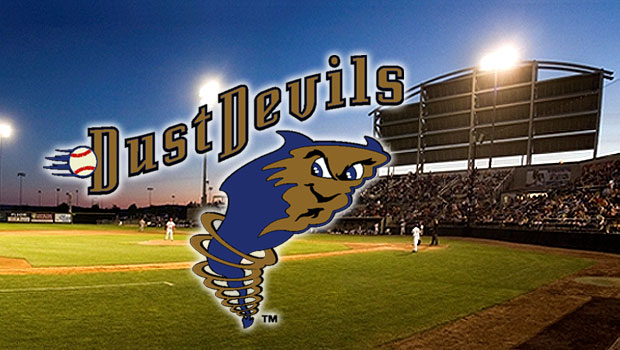 From Tri-City Dust Devils
The Tri-City Dust Devils threatened to mount a comeback in the ninth inning but were unable to score in their 6-4 loss to the Hillsboro Hops Thursday night at Gesa Stadium. Dust Devils starting pitcher Jonathan Vargas (1-1) gave up three runs on five hits in a losing effort.
The Hops (8-18) strung together three runs on four hits and a Dust Devils (11-16) error in the top of the third inning.
The Dust Devils got on the board in the bottom of the fifth inning. Sean Dwyer hit a one out triple that snuck under the glove of Hops left fielder Brian Billigen and bounced all the way to the wall. Dwyer scored on a sacrifice fly by the next batter, Patrick Valaika, to make the score 3-1.
It didn't take long for Hillsboro to get one back. Hops right fielder Zach Esquerra hit the first pitch of the top of the sixth deep over the left field fence to make the score 4-1. Esquerra's home run was only the second home run hit at Gesa Stadium this season.
Dust Devils outfielder Kyle Von Tungeln led off the bottom of the sixth inning with a double into the right centerfield gap. He would later come in to score on a throwing error that left Ashley Graeter safe at first. Von Tungeln now has an extra base hit in all four games since he returned to the team from Modesto.
Randy McCurrey came up in the top of the seventh inning with runners on second and third. McCurrey was able to sneak a single through the middle and extended the Hops' lead to 6-2.
Tri-City was able to do some damage in the eighth inning without getting a base hit. The Hops pitching staff walked three of the first four batters of the inning to load the bases. Patrick Smith then threw a wild pitch to Dust Devils third baseman Alec Mehrten to allow a run as all base runners moved up. Mehrten was then hit by a pitch to reload the bases. Dwyer grounded into a fielder's choice that allowed another run to score and cut the Hillsboro lead to 6-4.
Hillsboro starting pitcher Aaron Blair pitched well in a short outing. The Hops right hander gave up just one hit and walking a batter while striking out four in three innings of work. Yoimer Camacho (3-2) got the win and Daniel Gibson got his first save of the year for Hillsboro.
The second game of the series is Thursday night at Gesa Stadium.