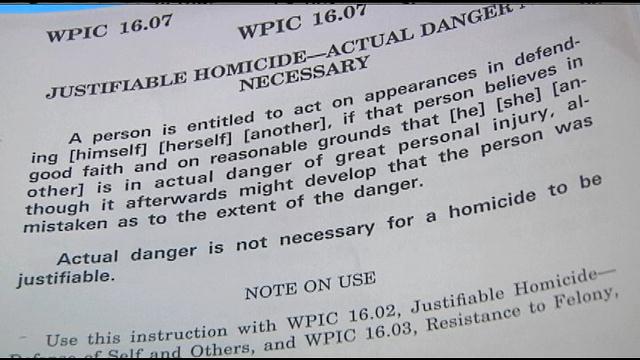 NBCRightNow.com - NBC Right Now is taking a closer look at Washington's Stand Your Ground law. Following George Zimmerman's not guilty verdict last weekend, the nation is reacting strongly to the jury's belief that he acted in self-defense.
18 states have some sort of stand your ground law and Washington has some of the toughest. In any self-defense case, stand your ground will come up.

The laws states if a person believes they are in 'imminent danger' they have the right to protect themselves. Furthermore, Washington has no 'duty to retreat,' meaning even if a person can, they don not have to try to leave the situation. Again, that person has the right to protect themselves in whatever way they feel necessary.
"We do have a jury as a safeguard to make sure that the defendant's actions were reasonable under the circumstances and the victim has to be in imminent danger of either death or serious bodily injury," said Benton County Prosecutor Andy Miller.
Miller says another difference in Washington's Stand Your Ground statutes is 'subject for intent.'
Meaning the person's actions will not be judged against what a reasonable person would do, but rather that person's fear alone is enough to enact Stand Your Ground.