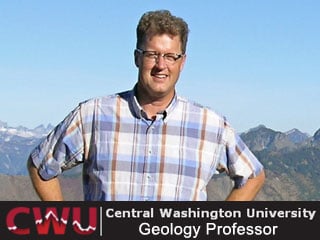 Nick is a major presence in the lives of our CWU Geology students. He is an advisor to most of our geology undergraduates and he mentors our graduate students as they teach in the field and in the lab.
Nick teaches a popular "Geology of Washington" course to freshman students every quarter - and his course is open to townspeople for free! For two weeks in late summer every year, Nick and Anne Egger teach a required geology major course "Introduction to Geologic Field Methods" in Owens Valley, California.
Nick leads the Ellensburg Chapter of the Ice Age Flood Institute, is the TV host of "Central Rocks", and received the 2011 CWU Most Inspirational Faculty Award and the 2012 CWU Presidential Faculty Award.