ALERT: Armed & Dangerous Suspect On The Loose After Shooting Near Quincy
Posted:
Updated: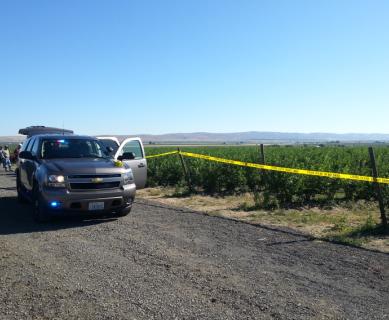 Shooting scene west of Quincy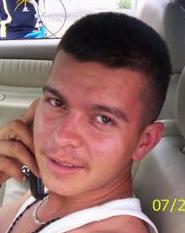 Quincy shooting suspect
PRESS RELEASE FROM THE GRANT COUNTY SHERIFF'S OFFICE: Near QUINCY, Wash. (19JULY2013) - A Quincy man was shot Friday morning and police are searching right now for the suspect.

Around 7:30 a.m. deputies, Washington State Patrol, Grant Fire Dist. 3 and Protection One ambulance answered a call for a shooting in the 20300 block of State Route 28 West about two miles west of Quincy.
Responders found an adult male in the orchard shot multiple times in the belly. He was alive when he was transported from the scene and was later flown to Central Washington Hospital in Wenatchee. His current condition is unknown.

The shooter, identified as 20-year-old Arnoldo Cazares Mendoza (photo attached) of Quincy, fled in a pickup truck. That truck was found abandoned a short time later in an orchard near County Roads 9 and U-Northwest. Officers and Douglas County tracking dogs searched the orchard on the ground and a U.S Border Patrol helicopter and WSP airplane searched from the air. Mendoza was not found in the orchard.

Right now, officers are searching several places where Mendoza may have gone. The relationship between Mendoza and the victim is unclear.

Mendoza is considered armed and dangerous. Anyone who knows where he may be should call 9-1-1.

Due to the amount of field workers at the scene who are possible witnesses, the Columbia Basin Investigative Team is on scene. The team includes detectives from the sheriff's office, Washington State Patrol, Moses Lake Police, and Quincy Police.
UPDATE: The Quincy shooting suspect has been identified as 20-year-old Arnoldo Cazares Mendoza of Quincy. Call 911 if you see him, he's armed and dangerous.
UPDATE: The suspect is a Hispanic male wearing black t-shirt and jeans. He's armed and dangerous. Stay away from Roads 9 and U NW. We'll post more details as we get them.

From officials: Alert: Stay way from Road 9 and U Northwest near Quincy. Searching for shooting suspect in Orchard.
MORE DETAILS:

KHQ.COM - Right now the Grant County Sheriff's office is on the scene of a shooting. It happened in a blueberry field just west of Quincy. The victim was shot multiple times. At this hour the victim is still alive. A vehicle was seen leaving the scene, right now authorities are working on giving us a description of the vehicle. We'll post more details as we get them.