FIRST ON KHQ.COM: 50 Acre Brush Fire Contained In The West Plains
Posted:
Updated: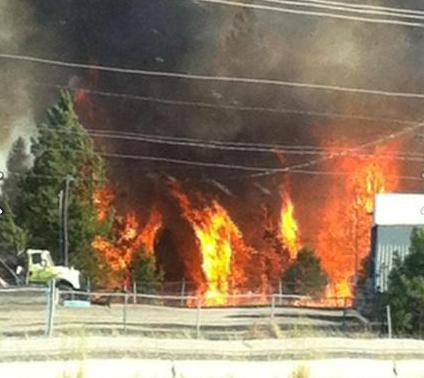 Photo from KHQ Facebook friend Teresa Looney. (Spotted Rd. & I-90)
UPDATE: Fire crews have reported that the fire is contained at this time. The brush fire stopped at Cheatham Rd. At least 50 acres charred. A Department of Natural Resources plane dropped retardant on the fire.
A child's playhouse and fort burned down and a roof of an outbuilding caught fire but firefighters were able to put it out quickly. No injuries have been reported. The blaze broke out shortly before 6pm Saturday night and was contained around 7:15pm. As soon as we learn more details we'll post them.

PREVIOUS STORY:
UPDATE: The fire has jumped across Spotted Rd. Winds are fueling the flames. So far no injuries have been reported. Keep checking back to KHQ.com for updates. The fire command center is staged at Spotted Rd. & Westbow Rd.

PREVIOUS STORY:

BREAKING: Right now firefighters are trying to put out a brush fire in the West Plains. So far at least 4 acres have charred. It's burning along Spotted Rd very close to I-90 westbound. Authorities are asking all drivers to avoid the area as they work to contain the blaze. We're working on getting more details for you.