Duchess of Cambridge Delivers a Baby Boy
Posted:
Updated: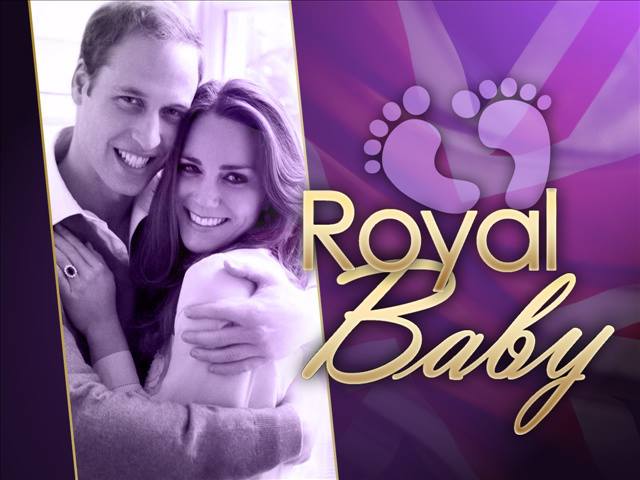 LONDON (AP) - Palace: Prince William's wife, Kate, has given birth to a baby boy. At this hour we're awaiting an official press release from palace officials.

PREVIOUS STORY:

NBCNEWS.COM - The long wait for the royal baby is coming to an end.
Catherine, the Duchess of Cambridge, was admitted to a London hospital in the early stages of labor shortly before 6 a.m. local time (1 a.m. ET), a palace official confirmed. Her husband, Prince William, was at her side.
"Things are progressing as normal," a spokesperson for Kensington Palace told NBC News.
According to NBC's Jim Maceda, photographers reported seeing royal vehicles at a back entrance to St. Mary's Hospital at about 6 a.m. local time. About 90 minutes later, royal officials confirmed Duchess Kate, 31, traveled from Kensington Palace to the Lindo Wing of the hospital via car, not an ambulance.
The Lindo Wing is where Princess Diana gave birth to Prince William in 1982 and to his brother, Prince Harry, in 1984. The birth will be overseen by a medical team that includes Marcus Setchell, 69, the Queen's former gynecologist, and her current gynecologist, Alan Farthing.
Duchess Kate will also be assisted by several midwives and a member of the senior nursing staff, according to NBC News royal expert Camilla Tominey.

There are no plans for Duchess Kate's mother and sister to join her in the delivery room, Tominey revealed early Monday. "Buckingham Palace denied rumors that they were going to be in the delivery room with Kate. She very much wants just her husband to be there."
According to the palace officials, Queen Elizabeth remains at Windsor Castle. There has been no announced change to her plan to leave Friday for a vacation at Scotland's Balmoral Castle.
Once the baby is born, the news will be shared with Queen Elizabeth, Prime Minister David Cameron, and the Middleton family. The queen will be the first to hear; Prince William will call her personally.

A birth announcement written on official Buckingham Palace letterhead will then be driven to the palace, where it will be placed on the same easel used to announce Prince William's birth 31 years ago. In a modern twist, the news will also be shared via Twitter.
In addition, the UK Ministry of Defense will mark the royal baby's birth with a 41 gun salute from London's Green Park and 62 cannon blasts from the Tower of London — a traditional sign of respect.
The public will learn the baby's gender and sometimes eye and hair color from the birth announcement. The baby's name may not come right away. It took Prince Charles and Princess Diana a week to name Prince William, although they named Prince Harry right away.
Prince Charles is attending to royal duties in York, 200 miles north of London, where he was scheduled to take part in celebrations marking the 75th anniversary of the world record for the fastest steam train being broken. Asked if he had any news about the royal baby, he replied: "Absolutely nothing. We're waiting."
The Duke and Duchess of Cambridge's child will be third in line to the British throne, after the child's father and grandfather, Prince Charles.

Earlier this year, Queen Elizabeth took steps to update a century-old rule to make it easier to grant the child the title "princess" if she is a girl. Otherwise, a daughter would have only been allowed to receive the title, "lady."
If the baby is a girl, she will become only the sixth woman to be crowned Queen in her own right in over 1500 years of the British monarchy. Neither the duke nor duchess claimed to have known the baby's gender before Kate went into labor.
'We're all waiting at the end of the telephone'
In England, thousands of Britons placed wagers on any possible detail related to the baby in the past several weeks. Interest around the world also surged as Kate drew closer to her mid-July due date, with many countries making arrangements to publicly celebrate the baby's birth.
In addition to keeping the world anxiously awaiting, the royal baby watch also kept the monarchy restless.
"I hope it arrives soon because I'm going on holiday," Queen Elizabeth joked during a July 17 visit with schoolchildren.
Just days earlier while touring a children's hospice, Camilla, the Duchess of Cornwall, also spoke about her hopes that the future king or queen would arrive soon.
"We're all waiting at the end of the telephone," she told the crowd.
Meanwhile, Camilla's husband expressed his eagerness about becoming a first-time grandfather.
During his annual tour of Wales, a visibly excited Prince Charles took tips from a ladies' group and spoke about his plans for being an involved grandparent.
"The great thing is to encourage them. Show them things to take their interest. My grandmother did that, she was wonderful," he said.
In London, the horde of media camped outside of St. Mary's Hospital grew exponentially as the royal baby watch dragged beyond the middle of the month. Despite the heat wave that blanketed the city, journalists dutifully staked out spots that would give them the best view of the Duchess of Cambridge once she finally went into labor.
The baby's parents married in April 2011, prompting almost immediate speculation over when they would have their first child. In December 2012, the world learned of the couple's pregnancy when Kate was hospitalized for several nights because of a severe form of morning sickness.
After a brief respite, the duchess returned to a schedule filled with charity visits and other public events. At every appearance, the media seized upon what she wore in search of an emerging baby bump.
Just as she did before her pregnancy, Kate made headlines for what she wore as much as for what she did. Her maternity wear, along with the items the press caught her buying for the baby's nursery, sparked a buying craze by other expectant moms.