Arrest Made In Pullman Apt. Fire Investigation
Posted:
Updated: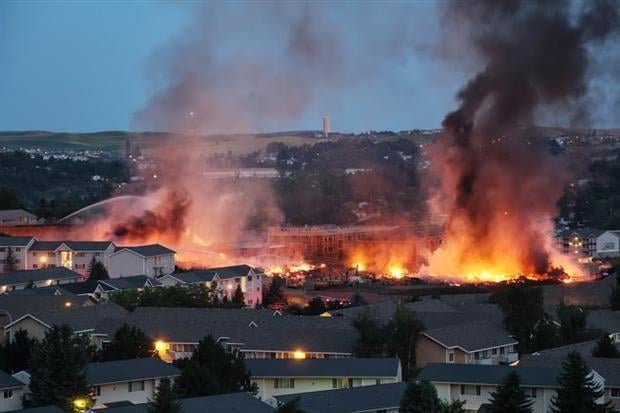 PULLMAN, Wash. - Pullman Police have arrested a suspect believed to have intentionally set fire to the Grove Apartments. On July 22, 2013 at about 4:05 p.m., Pullman Police Department detectives arrested Bryan Lee Kitchen, a 31-year-old Pullman resident, in connection with the Grove Apartment fire on July 14. Kitchen had accompanied detectives to the Pullman Police Department for an interview and subsequently made admissions that led investigators to believe he was involved in setting the fire. Kitchen worked for a plumbing sub-contractor at the construction site, but no motive was provided for the arson. Kitchen had been a person of interest since the morning of the fire when his unoccupied vehicle was seen near the fire scene by a Pullman police officer around the time the fire was believed to have been started. Detectives contacted Kitchen periodically during the course of the scene investigation. After the fire was determined to be arson, detectives asked Kitchen to accompany them to the police station on July 22 for further questioning.
Kitchen was booked at Pullman PD on a charge of Arson in the First Degree, and Class 'A' felony, and will be transported to the Whitman County Jail. After conferring with the Whitman County Prosecuting Attorney and the U.S. Attorney's Office in Spokane, the U.S. Attorney's office will be reviewing the case for possible federal prosecution.
The Pullman Fire Department was called to the site of the Grove Apartments at 1560 NE Brandi Way just after 3:00 a.m. on Sunday, July 14, on a report of a structure fire. Whitman County Rural Fire District #12 and the Colfax and Moscow City and Rural Fire Departments also provided assistance. Four structures under construction with an estimated completed value of close to $13 million were destroyed. Investigators from the Pullman Fire Department conducted a fire investigation at the scene to determine cause, and were assisted by investigators from the Pullman Police Department, Washington State University Police Department, and the U.S. Department of Justice Bureau of Alcohol, Tobacco, Firearms and Explosives. The Spokane Valley Fire Department assisted with the use of an arson dog and the Spokane County Sheriff's Department assisted with mapping the scene. The investigation at the scene led to a conclusion that the fire was intentionally set.
PREVIOUS STORY:
The three-alarm fire in Pullman destroyed four apartment buildings and a club house that would have been worth about $13 million when completed this summer.
The fire early Sunday destroyed 88 units at the Grove complex, where many residents are Washington State University students. The fire also destroyed three pieces of construction equipment and damaged a dozen more.

Pullman Fire Chief Mike Heston says investigators are using an arson dog. An investigator from the Bureau of Alcohol, Tobacco, Firearms and Explosives also is involved.

Pullman mayor and fire department spokesman Glenn Johnson says officials do not believe the fire is related to four unsolved arsons in the spring of last year at Washington State University.
After four vacant apartment buildings went up in flames in an early morning three-alarm blaze Sunday, six investigators from Pullman Fire, Pullman Police and Washington State University Police are sorting through the charred rubble.
Pullman Fire Chief Mike Heston confirmed an arson dog is being brought in to the Grove Apartments off Terre View Drive to aid in the investigation Tuesday to search for accelerants or other evidence that the fire may have been set on purpose.
"It's suspicious because it was so huge when we got here, and we're on a site where we don't have a lot of sources for ignition, so we're trying to rule those out," Heston added. "Until we rule it out, we're going to call it suspicious."
He said their first job is to rule out other potential causes; there were extension cords inside the buildings, and fire investigators will be looking at whether they had power as well as if other fuel sources were on the site.
So far, Heston believes the fire is not related to the string of four unsolved arson fires that were set near the WSU campus last summer, however that may change as new evidence in the investigation comes to light.
"We're taking this very seriously, as we took the other ones as well, but people's lives were at stake here on this one," Heston said.
The fire burned so fast and hot, Heston said the flames were 100 feet high when crews arrived on scene. Two neighboring apartment complexes were evacuated, as the intense heat melted the siding on the buildings. Heston said had the fire burned uncontrolled for another few minutes, one of those separate complexes full of students would have likely caught fire,
Right now, damages to the Grove Apartments are estimated at $13 million dollars.
Terry Boston, the Assistant Vice President for Administrative Services at WSU said the university will have a better idea in the next 24-48 hours of the impact on students as Campus Crest gets more information.
Boston said Campus Crest still plans to have 96 beds available by August 17th, two days before the beginning of the fall semester. WSU may be able to house another 100-200 students in its residence halls.
Campus Crest is in the process of contacting students who had signed leases for the now burned apartment buildings to make arrangements.
PREVIOUS STORY:
A massive three-alarm blaze woke up several Washington State University students early Sunday morning, when the fire was burning dangerously close to their own complex.
"We were looking at the flames, and we thought it was going to spread," WSU senior Ashley Weyerts said.
Weyerts and her roommate, WSU sophomore Jessica Johnson, initially heard yelling just after 3:00 a.m. Sunday, then heard someone yell 'fire.'
"I went to my bedroom window and looked out, and I was expecting just some smoke or a little fire, and instead, saw this huge wall of flames," Weyerts added.
While Johnson called 911, the two helped knock on doors to evacuate fellow residents, then packed their belongings into their cars to get away from the fast-moving fire.
"The scariest part was when we heard the explosions, and that's probably when we really thought for about 5 minutes there, it's really going to spread," Weyerts said.
The explosions came from the propane tanks on the construction site and the gas tanks of the equipment left on scene. The fire burned so hot and fast, it even melted the siding on a building in their complex down to the wood.
"I just don't understand why someone would want to do so much damage, I mean this is affecting hundreds of peoples lives," Johnson said.
Amazingly, nobody was hurt.
Fire investigators are calling the blaze suspicious, and an active investigation is underway.