Tri-City Drops Game Two to Eugene
Posted:
Updated: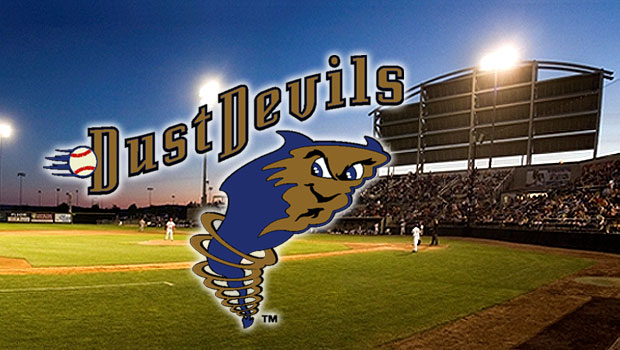 From Tri-City Dust Devils
The second game of the five game series between the Tri-City Dust Devils and Eugene Emeralds was just as close and nearly as low-scoring as the first, as the Emeralds defeated the Dust Devils 4-3 in front of 1,957 at Gesa Stadium Thursday night.
Dust Devils (4-6 second half, 23-25 overall) starting pitcher Tyler Anderson (1-1) pitched well in his third start for Tri-City this season, allowing three unearned runs over six innings. The lefty out of the University of Oregon allowed two hits while striking out six and walking two, but also had two errors in the game, leading to three Eugene (6-4, 19-29) runs he allowed. Those early unearned runs gave the Emeralds pitching staff just enough cushion to hold on for the victory.
The Tri-City offense was subdued by the Eugene pitching staff until third baseman Michael Benjamin delivered a two-out bases-clearing double with the bases loaded to bring the Dust Devils within one run at 4-3. But the runs would end there as Tri-City couldn't push any more runs across. Shortstop Alec Mehrten, the Papa John's Hit Man of the game, went 1-for-4 in the game. Since Mehrten recorded a hit, everyone can head to papajohns.com and type in promo code "dustdevils" where you can buy any pizza and receive a second pizza of equal or lesser value for free. This promo code is valid tomorrow only, Friday, August 2nd, at all Tri-City locations.
Eugene reliever Kyle Lloyd (3-1) earned the win for the Emeralds, throwing four shutout innings and striking out six while walking none.
The third of five games between the Dust Devils and Emeralds is Friday night at Gesa Stadium.