Hall Continues Trend of Stellar Pitching in Sweets' 5-2 Win
Posted:
Updated: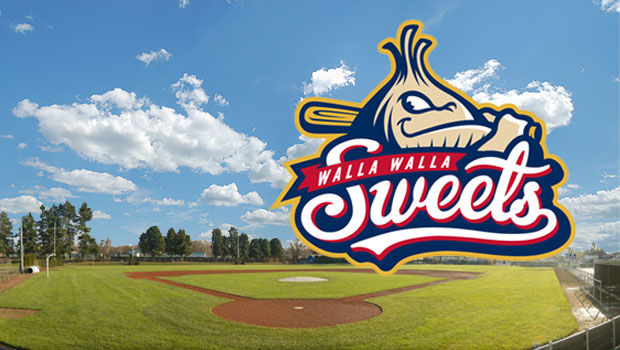 From Walla Walla Sweets
WALLA WALLA, WA -- The Walla Walla Sweets continue to prove true the baseball adage that a club can never have enough pitching. With its fourth consecutive quality start Wednesday night, this time by left-hander Matt Hall, Walla Walla
(28-22)
completed a sweep of the Kelowna Falcons (17-34) by way of a 5-2 victory at Borleske Stadium. For his final start of the year with Walla Walla, Hall notched his fifth win of the season in front of more than 1,800 fans on Fan Appreciating Night, striking out a season-high 10 hitters, in his 6.2 innings of work.
After being no hit through seven innings in game one, and then again through 7.1 innings in game two of the series, Kelowna came out of the gates with a chip on its shoulder, striking for a run in the top of the first on the wave of three consecutive singles. Designated hitter Darren Kolk led the inning off with a double to left, and two batters later scored on first baseman Grayson Porter's shallow RBI single to left field. Shortstop Nick Vilter helped Hall's cause with a leaping grab for the first out before back-to-back strikeouts ended the Falcons threat.
Walla Walla retaliated in the bottom of the frame with a run of its own, tallying one time with right fielder Mike Paulson's double down the left field line. Designated hitter Spencer O'Neil launched his third home run of the year to lead off the second inning, a deep drive into the bleachers to put the Sweets ahead 2-1, and they did not look back.
Three more runs scored in the seventh after second baseman John Skrbec notched a one-out single to left field. O'Neil followed with a base hit, and a walk to left fielder Kris Paulino loaded the bases. Vilter walked to drive in an insurance run, putting the Sweets ahead 3-1. Catcher Renae Martinez later doubled two more runs home with two outs in the inning to give the Sweets a commanding 5-1 advantage.
Hall began the seventh with two more strikeouts before a single to Kolk ended his night on 111 pitches. Right-hander Jonathan Harris -- also Hall's teammate at Missouri State Univ. -- relieved him in one inning of work, but gave way to Josh Wagner with a man at third base in the eighth. Wagner struck out his only hitter in the inning to strand right fielder Jarryd Klemm on the basepaths.
Wagner's work continued into the ninth, but after consecutive walks, he was replaced by newcomer Jesse Houser, who struck out his first batter with a devastating slider to get a check-swing third strike. After surrendering an RBI single to Kolk -- his third hit of the night -- closer Sean-Luke Brija came on to nail down his eleventh save this season with just three pitches. He is the only closer in the West Coast League with double-digit saves so far in 2013.
The win helps the Sweets keep pace with the Wenatchee AppleSox (28-22), who completed a sweep of the Victoria HarbourCats Wednesday night. After a day off, the Sweets hit the road to play three games against the Bend Elks. First pitch Friday is set for 6:35 p.m. at Vince Genna Stadium.