Sweets Eliminated from Division Series in Loss to Wenatchee
Posted:
Updated: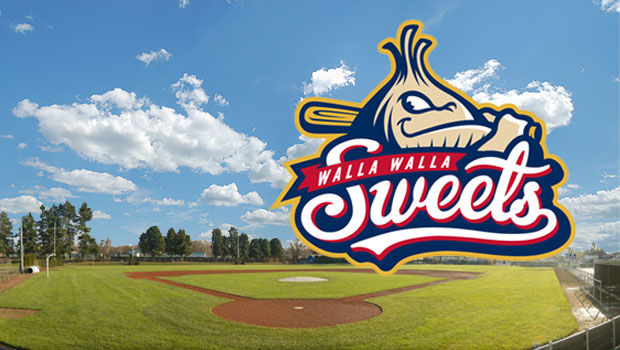 From Walla Walla Sweets
WALLA WALLA, WA -- All that a head coach can ask of his ball club is to fight through difficulty without rolling over. Wednesday night at Borlekse Stadium, the Walla Walla Sweets subscribed to that idea, leaving all they had left on the field as they battled for their playoff lives, coming up short in a 6-2 loss to the Wenatchee AppleSox in Game Two of the West Coast League North Division Series. Starting pitcher Chris Lovejoy battled through 6.1 innings on the mound but took the loss after allowing four earned runs on seven hits. The victory sends Wenatchee to the WCL Championship Series against the Corvallis Knights, who knocked off the Medford Rogues in two straight games.
The AppleSox struck first as they did in Game One with a two-out offensive attack. After right fielder Brett Stevens' lead-off single on the infield, he stole second base and scored on first baseman Connor Spencer's two-out single to left. Center fielder Brock Slavin added to Wenatchee's advantage when he walked and scored in the fourth inning to put the Sox ahead 2-0.
After the AppleSox scored four early runs in the first inning of Game One, a sense of "here-we-go-again" might have befallen the Sweets early on Wednesday. Instead, manager J.C. Biagi saw the club employ a message that he and his coaching staff have emphasized all season long.
"We speak a lot about toughness and mentality," Biagi said, "and these guys definitely displayed that."
Despite each team reaching double digits in the hit column, stellar defense was riddled throughout the ball game to limit each offense. Walla Walla was held to three hits through the first three innings, as AppleSox starter C.J. Burdick struck out three of his seven hitters on the night. Yet with one out in the fourth, designated hitter Renae Martinez smacked a line drive off the top of the left field wall for his longest single of the year.
Then came second baseman John Skrbec, who stepped in and promptly lashed the first pitch he saw over the left field wall for a two-run home run, tying the game at 2-2. It was another example of the aforementioned grit that Biagi likes to see, and also something he felt makes this year's Sweets team a special club.
"It's interesting, when you look at statistics... we were kind of in the cellar in terms of offensive numbers... and on the pitching side of things," Biagi said. "And so really what that speaks to more than anything is the grit. Guys' willingness and ability to come out and fight every night."
Wenatchee found a fight of it's own as it rallied for two more tallies in the sixth inning. Slavin singled to right field before Spencer doubled to left over Kris Paulino's head. Third baseman Stockton Taylor singled to bring Slavin home, and Spencer scored on a wild pitch to put the Sox ahead 4-2. Another pair of runs came home in the eighth inning, widening the Sox lead at 6-2.
The Sweets had a handful of rallies cut short throughout the late innings. Center fielder Luke Persico hustled to beat out a dropped third strike with one out in the seventh inning, and moved to third base on third baseman Jarod Gonzales' double. Not a typical double, the ball Gonzales struck was lined back to the mound where it kicked off of Burdick's foot, sailing over first base, deep into foul ground to put those two runners into scoring position. However each man was stranded after Burdick stayed on the mound to retire the next two men in order.
Again in the eighth, a lead-off walk to catcher Dominic Miroglio was erased when Martinez wrapped into a double play. Skrbec and right fielder Mike Paulson collected back-to-back singles, but the rally was killed on a ground out to third base.
Outcome aside, it was that stuborn, unwillingness to go quietly that Biagi admired of this club.
"These guys fought, and you always had hope," he said. "Even in a game like tonight... you feel like something might be there [in the late innings]. That's just a really good characteristic of this ball club."
That hopeful beacon shined again in the ninth with the Sweets down 6-2. Drawing a one-out walk, Gonzales moved to second base when Paulino walked behind him and first baseman Matt Mendenhall followed by being hit between the shoulders with a rogue curveball to load the bases. After Persico had begun the inning with a strikeout on three pitches, Miroglio took a swing at an inside pitch, grounding to second base for a game-ending, and thereby season-wrapping, double play.
With the 2013 season now in the books, Biagi's words to his players after the contest were simple.
"A big thank you," Biagi said of his post-game talk. "These guys give up a lot to come out here. They could be on a beach somewhere, they could be on a boat... But they're not. They're in Walla Walla, Washington, playing baseball.
"Our message to them, and frankly to all the fans, is one big thank you."